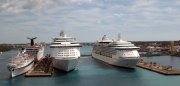 By NEIL HARTNELL
Tribune Business Editor
nhartnell@tribunemedia.net
Some 98 per cent of cruise passengers who came ashore in Nassau/Paradise Island said they would recommend the Bahamas to friends and relatives, a Ministry of Tourism survey finding that those on Disney vessels spent an average $20 more than those travelling with rival lines.
The Ministry's cruise 2011 visitor expenditure report, while painting a more positive picture of the Bahamian cruise industry than recent report done for the Florida-Caribbean Cruise Association (FCCA), indicated that getting visitors off the ship once in port was key if local firms are to truly enjoy positive spin-offs.
While the Ministry's report did not detail how many passengers left their cruise ships once docked in Nassau, it disclosed that 88 per cent "who had gone ashore" - almost nine in 10 - "indicated they would return to the Bahamas as a vacation destination".
This would be on another cruise or a land-based vacation, but the report indicates the Bahamas still has some work to do when it comes to converting cruise passengers into higher yielding, higher spending stopover visitors.
Only 30 per cent of cruise visitors saying they would come back to the Bahamas planned to do so as stopover visitors in a hotel, with 41 per cent adding that they would return on a cruise.
But, potentially, the best news for the Bahamas was that "the majority (98 per cent) of cruise visitors who had gone ashore in Nassau/Paradise Island indicated that they would recommend the Bahamas as a place for their friends/relatives to visit".
The Ministry's report found that cruise passengers spent $311.47 million in Nassau/Paradise Island alone in 2011, pegging average per capita spend at $111.
This was markedly different from the total $241.5 million passenger spending for the entire Bahamas that was reported in the FCCA survey, which found that per capita spending had fallen 23 per cent in three years - from $83.93 in 2009 to $64.81 in 2012.
The Ministry of Tourism has previously explained away the discrepancies between the reports as being due to the different survey methods used, but there is little doubt that scope remains to increase per cruise passenger yields.
"Nearly four in 10 (38 per cent) of cruise visitors spent under $50 while they were in Nassau/Paradise Island, and six in 10 (62 per cent) spent $50 or more while they were on the island," the Ministry's report found.
"A higher percentage of cruise visitors in Nassau/Paradise Island spent $100 or more than cruise visitors to Grand Bahama. Nearly four in 10 (39 per cent) of cruise visitors spent $100 or more in Nassau/Paradise Island compared to two in 10 (22 per cent) for Grand Bahama."
Indeed, more than one out of every five visitors to Nassau/Paradise Island spent less than $20 while in port.
Disney, though, led the way when it came to per capita passenger spend by cruise line, with its visitors exceeding the $111 average - the only cruise line to do so.
"In 2011, the average expenditure of a cruise visitor to Nassau/Paradise Island on the Carnival fleet of ships was $109.98, and on Royal Caribbean it was $106.26," the Ministry of Tourism's report said.
"The average expenditure for a cruise visitor who came on the Norwegian fleet of ships to the island was $110.78, and on Disney ships it was $132.03."
When it came to how that money was spent, the Ministry of Tourism said $149.51 million - or 48 per cent of the $311.47 million total - was spent on shopping.
Activities, tours and shore excursions accounted for another $100.29 million or 32 per cent, with casinos sucking up $27.1 million or 8.7 per cent.
Meals and drinks, and transportation, accounted for the remainder, but nightlife did not receive any spend - indicating that cruise ships largely tended not to overnight in Nassau.