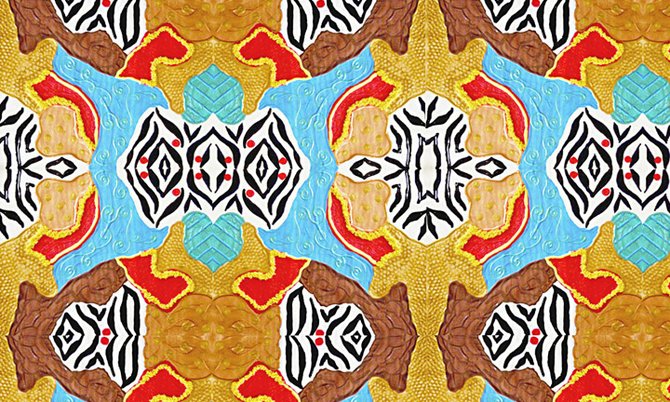 By Teri M. Bethel
When you visit a fabric store looking for the ultimate fabric to create your amazing design do you ever stop to ask who designed it? Chances are you don't. Most of us look for the company brand if the designs are consistently, outrageously good, but few ever wonder about the artists who created it.
That's unless you are a fabric connoisseur; someone who takes note with great appreciation for the name behind the name; or unless you are smack in the industry creating anything relating to clothing or interior fabrics as a serious profession, questions about the creative behind the scene may never come to mind.
Have you ever considered where these designs come from? Well here's the long and the short of it. Fabulous designs are created by people just like you and me. Yes my friend, just ordinary folks who have an extraordinary passion for painting or designing amazing textiles.
Some of the amazing designs are created digitally while still there are some that are painted by hand. I met an experienced fabric designer some years ago. Her task was to create beautiful scenes for reproduction on a variety of fabrics. Strangely the company she sold her designs to was based in the United Kingdom, but here in the Bahamas she was painting beautiful tropical scenes.
What a life: To wake up and sit in her studio, which actually was her upstairs ocean front porch, to paint fantastic designs. I don't recall what kind of paint she used. I don't think it was important. Her end result was magnificent. I didn't know at the time that I would someday be designing fabrics of a similar nature. Sometimes we get a peep at where we might be going without any forewarning.
While you may not be interested in designing fabrics for a major company, you may want to consider designing fabrics for your personal line or personal use. This is something that can be quite helpful if you make handbags, sew clothing or even have a background in interior design as I do and design fabrics for upholstery and window treatments.
So when next you visit a fabric store, take note of the designs. You will find that even though some are basic and childlike in nature others are quite exquisite. In any case, whatever level you are at I am pretty sure that with a little bit of training you can be the next artist behind the scenes who produces outrageously good designs for yourself or some local or international company.
• Teri M. Bethel is a texture painting & handbag instructor. She is the designer of Teri Monique Handbags, a line of custom made art purses for ladies. For more insights & training visit us at: http://www.paintwithtexture.com Tel: 242-676-4474