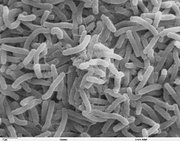 LAST night the Ministry of Health confirmed its first case of cholera. It said that although it continues to investigate, "there are no other reported cases of cholera in the Bahamas."
The Ministry said that it "continues its heightened surveillance activities and other necessary precautions to identify cases and prevent the transmission of cholera in the Bahamas."
It advised the public to use clean water, wash their hands regularly and otherwise maintain good hygienic practices to prevent cholera from developing and spreading.
The Ministry reported that a patient was evaluated at the Princess Margaret Hospital on October 18 "due to symptoms of vomiting and a large volume of diarrhea."
The Ministry of Health's statement said that "the patient appeared unwell on arrival, was treated for suspected cholera, and has since recovered. Laboratory tests were able to confirm cholera today, October 29."
The Ministry said that there are increased rates of cholera in countries around the world.
It assured the public that it will "continue to keep the public informed of all matters affecting public health."