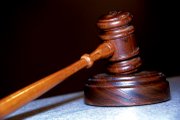 A MAN from Freeport was arraigned at Nassau Street magistrates' court yesterday on multiple charges of possession of ammunition.
Quentin Rahming, 36, of Hampshire Drive appeared before magistrate Joyann Ferguson-Pratt facing eight charges, two charges of possession of ammunition with intent to supply and six counts of possession of ammunition.
It is claimed that on Thursday October 25, while in Freeport, Grand Bahama, he was found in possession of 66.9mm rounds of ammunition with intent to supply and without being the holder of a firearm certificated authorising him to possess the ammunition.
It is further claimed that he was in possession of one .45, two 12 gauge shotgun shells, four .40, eight 7.62, 10 .223, 17 .38, 13 5.7 by 28 rounds of ammunition.
The second intent-to-supply charge alleges that he was in possession of the above listed ammunition.
Rahming pleaded not guilty to all of the charges against him.
There was no objection to bail by the police prosecution and Rahming's attorney, Brian Hanna, asked the magistrate to consider giving his client a reasonable bail and to bear in mind that his client, before being arrested, wanted to move to Nassau to find work.
However, Magistrate Ferguson-Pratt said the court had taken judicial notice of the amount of ammunition and their caliber.
"The court acknowledges his constitutional right and he is an innocent man unless and until he is proven guilty.
"What I'm concerned about is the likelihood of him not appearing for trial," said the magistrate.
Rahming said he had a job already lined up for him and his living situation would be sorted without any problems.
The magistrate granted bail in the amount of $15,000 with two sureties and reporting conditions to the Carmichael Road police on Tuesdays and Thursdays on or before 6pm.
He will return to the magistrates court in Freeport for his trial on December 14.