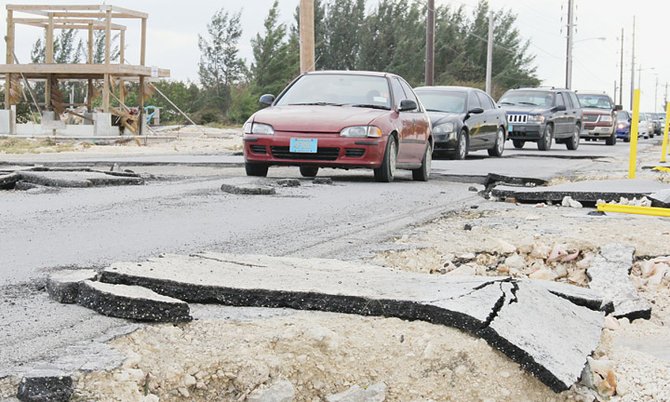 By DENISE MAYCOCK
Tribune Freeport Reporter
dmaycock@tribunemedia.net
FREEPORT – Powerful storm surge has washed away large portions of Fishing Hole Road, making commuting to and from Freeport challenging for residents of West Grand Bahama.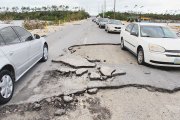 The strip of road is the only access in and out of West Grand Bahama for the thousands of residents who work and need to do business in Freeport.
What was once a 25-minute commute into the city is now taking motorists almost an hour because of the massive erosion and damage to the road.
"Because of the state of the road, traffic is backed-up for miles in the mornings because people have to drive at a snail's pace to avoid damaging their vehicles," said commuter Donna Jones.
Mrs Jones, who lives in Eight Mile Rock, said it took her 15 minutes to get to work in Freeport prior to the storm.
"It now takes me almost an hour and sometimes traffic is at a standstill," she said.
Flooding at Fishing Hole Road has been an ongoing problem for many years, especially during hurricanes.
The narrow causeway traverses Hawksbill Creek, which floods from the north side to the south side.
Tidal surge caused by Hurricane Sandy caused severe flooding of five to six feet at the Fishing Hole Road.
Concerned residents and civic groups had previously called for a permanent solution to the flooding at FHR.

Civic and community leaders had agitated for a bridge to be built there.
Both the FNM and PLP governments had also promised to address the issue, and had undertaken studies with international engineering and consultant firms for a solution, but nothing has been done to address the age-old problem.
Instead of a bridge, there was a suggestion of raising the road another three to four feet and constructing culverts underneath to allow water to flow from the north side to the south side.

The Grand Bahama Port Authority has responsibility for repair of roads in the Port Area.
The Tribune attempted to contact Arthur Jones, vice president of Building and Development Services at the Port, however he did not return our call up to press time.
As regulators of the City of Freeport, the Grand Bahama Port Authority (GBPA) has a responsibility to address the safety of road users.
Minister for Grand Bahama Dr Michael Darville had expressed concerns about the flooding at Fishing Hole Road.

During a visit to the area following the storm, he said he will go to his colleagues in cabinet, and talk with The Grand Bahama Port Authority and the Hutchison Group about a solution to the flooding problem.