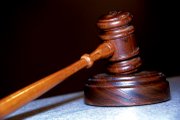 A WOMAN, accused of bigamy, could be arraigned on criminal charges as early as Monday when the magistrate of Court no. 5 returns to the bench.
Shianne Rolle, 35, of Mt Tabor Estates, also known as Shianne Dillett, was expected to be arraigned on Monday on a charge of bigamy and credit by fraud.
However, she was not present for court and the matter was stood down until Monday when Magistrate Derence Rolle-Davis returns to court.
He is presently off the island.
It is alleged that the woman, in April 2004 while in Nicholl's Town, North Andros, married Bryan Dillett, knowing that she was already married to Demot Charlar.
It is further claimed that she, on May 28, 2009, obtained $222,000 worth of credit from Sunshine Finance Limited by means of false pretences.
When the matter was called, Rolle was not in court.
It was noted by the prosecution that Rolle was not in police custody and should have been at the court.
Court was stood down for a few moments, but Rolle did not arrive.
The matter was stood down to Monday, November 5, when Magistrate Rolle-Davis returns to the bench.