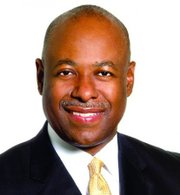 BIMINI residents are seeking an update from government on the status of their bid to enhance the protection of that island's unique ecology.
In a letter sent to area MP and Minister of Tourism Obie Wilchcombe, Grant Johnson, vice chairman of the Bimini Tourism Advisory Board, explained they are only seeking a "slight" expansion of the protected area established in 2008, which has yet to be enforced.
"With the fishing pressures that Bimini faces from thousands of visiting American anglers each year, as well as a constant presence from several Bahamian commercial fishing vessels, we feel that this minor expansion of the reserve boundaries could have a significant impact on keeping our marine resources at sustainable levels," the letter said.
Mr Johnson, who is writing on behalf of the Bimini Marine Protected Area Campaign, noted that three months have passed since members of the group met with Mr Wilchcombe to discuss the plan.
"We are again asking, with the utmost respect, for an update from our representatives in Nassau regarding what needs to be done to finish this critically important effort for Bimini, and what the proposed time-line is for this to come to a conclusion," the letter said.
Mr Johnson noted that just recently, the group obtained a "very encouraging document" published by the United Nations Environment Programme (UNEP), entitled 'Building a Sustainable National Marine Protected Area Network – the Bahamas'.
In the document, it is noted that three no-take marine reserves have been formally established by the government with boundary co-ordinates: the North Bimini Marine Reserve, South Berry Islands Marine Reserve, and Exuma Marine Reserve (Jewfish Cays).
The letter said: "It has previously been documented, in multiple media outlets, that Bimini's Marine Protected Area (or the North Bimini Marine Reserve) was officially declared in December of 2008, but this UNEP report seems to suggest that there is more information regarding the boundaries and rules of the MPA than we were formerly aware of.
"While we are encouraged that more documentation of our MPA exists, the Bimini Marine Protected Area Campaign wants to continue to push for the slight southern expansion of the reserve boundaries to maximise the benefits of our MPA."
Even if the slightly expanded boundaries are adopted, Mr Johnson said, Bimini's MPA will still be less than half of the size of the Southern Berry Islands Marine Reserve, and just a fraction of the size of the Exuma Cays Land and Sea Park.
He said: "We also wish to restate that we have an incredibly motivated and dedicated team already in place to offer any needed assistance in the management and monitoring of the MPA.
"In addition to the hundreds and hundreds of supporters of our online campaign, Bimini has an esteemed collection of fishing guides, marine researchers, business owners, law enforcement officers, and tourism workers that are eager to ensure that this marine reserve benefits everyone who cares about this amazing island, both residents and guests.
"We look forward to any additional information that can be offered at this point, and we are increasingly anxious to make this long-standing dream into a reality."
Meanwhile, in another letter to Prime Minister Perry Christie, supporters of the MPA asked that it be enforced as soon as possible.
"In an effort to maximise Bimini's potential and sustain the very base of our tourism industry, we, the stakeholders, community leaders, and residents of these islands now present a unified front to support the full implementation and realisation of Bimini's long-awaited Marine Protection Area," it said.
The letter was also signed by Mr Johnson, along with bonefishing legend Ansil Saunders, renowned artist and conservationist Guy Harvey, the Chief Councillor of Bimini, locals historians, scientists and pastors, and representatives of all hotels and resorts on the island but one.