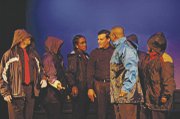 By JEFFARAH GIBSON
Tribune Features Writer
jgibson@tribunemedia.net
THEATRE festival Shakespeare in Paradise is back in its fourth year with an aim to promote an appreciation and awareness of theatre in the Bahamas.
The festival runs October 5-12 and will feature five productions, including the signature Shakespeare production "Merchant". This is Shakespeare's classic production "The Merchant of Venice", but it has been slightly adapted for the Bahamian audience. The production was directed by Gordon Mills.
"The play was not changed drastically into Bahamian dialect or changed the speech. The change came in the setting of the play. For instance in the production Shylock is a Haitian numbers-runner," said Philip Burrows, artistic director of the festival.
High school students benefit from this particular production as they are tested on "Merchant of Venice" on national examinations.
"The play is part of the BGCSE syllabus for high school students. We think students can benefit greatly from the production. We believe it will help understand much better what the play is all about," he said.
The Bahamian production featured in the festival is Out o' Wedlock which features tow-one acts, Back of the Moon and Father's Day by Jeanne Thompson. Back of the Moon was set in New Providence of the 1950s.
"A feisty domestic servant accuses her boss, a white English minister of religion, of fathering her child, and attempts to enlist the middle class black community to back her in her cause. The play is a window into a bygone Bahamian era. Father's Day, Thompson's classic study of a Bahamian man navigating his relationships with his wife and two sweethearts, rounds out the evening," the event's website states.
Organisers sought to celebrate the 50th anniversary of independence of both Jamaica and Trinidad by featuring works from both countries.
The two Caribbean plays featured in the festival include Mr and Mrs Blacke and Lion City. Caribbean productions, have not been featured in the festival since its start in 2009.
"We did not have any Caribbean productions in the festival since our first year. We have spent a lot of time looking and negotiating and we finally got the opportunity to feature those productions in the festival. Hopefully we can have a Caribbean production every year in the festival," he said.
Presently, there is much more taking place, for the festival to be ready for the public on October 5.
The biggest challenge Mr Burrows said the festival faces is funding. He said they do their best to make tickets accessible for the general public and high school students.
"We go out seeking sponsorship and raising funds so that we can present the production at an affordable rate to the public. That is not easy to do every year but we have to do" he said.
The productions will take place at several venues in Nassau. They include: the Dundas Theatre, Nirvana Beach, Hillside House, The Bahamas Historical Society, and the College of the Bahamas' Performing Arts Centre.