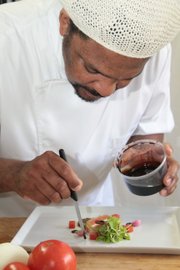 TWO Bahamian chefs are set to showcase their Bahamian pride at this years' International Exhibition of Culinary Art – better known as the Culinary Olympics – in Erfurt, Germany next month.
The event is a quadrennial chef competition and the biggest culinary exhibition in the world.
It was last held in 2008 and showcased 1,600 chefs from 54 countries. This year, 45 countries are slated to compete.
Although budgetary constraints did not allow for a Team Bahamas to be assembled this year, two chefs are representing the Bahamas as individuals to continue the country's heritage of medalling at the Olympics.
The Bahamas won two bronze in 2004 and a bronze in 2008 as a team.
Sheldon Tracey Sweeting is an award-winning chef who served on Team Bahamas as part of the medal winning teams and was co-captain.
He has been executive chef at the Cable Beach Resorts, head chef at the Marley Resort and Spa's Simmer Down Restaurant.
Chef Sweeting has been a winner at the Bahamas Culinary Classic; the Martinique Culinary Arts Festival, where he received the Madin' Gastro Kannari D'or (Golden Pan) Award; and Taste of the Caribbean, where he was Pastry Chef of the Year.
He is listed in the Taste of the Caribbean Hall of Fame.
Assisting him is Chef Ron Johnson of Savoury Arts Culinary and Consultation Service, a personal and private chef company.
Chef Johnson has earned several culinary medals and certificates and was an Organisation of American States scholarship recipient, a member of the Bahamas Junior National Culinary Team, a judge for the 2012 New Providence Junior Young Chef Championship and a participant in Ministry of Tourism Chef demonstrations.
Chef Sweeting said: "You have 45 countries from all around the world, so can you imagine the number of chefs that would entail.
"Just to see all the various categories, the creativity – I'll get ideas for years."
"I want to see if all my hard work is paying off with a comparison with chefs from around the world."