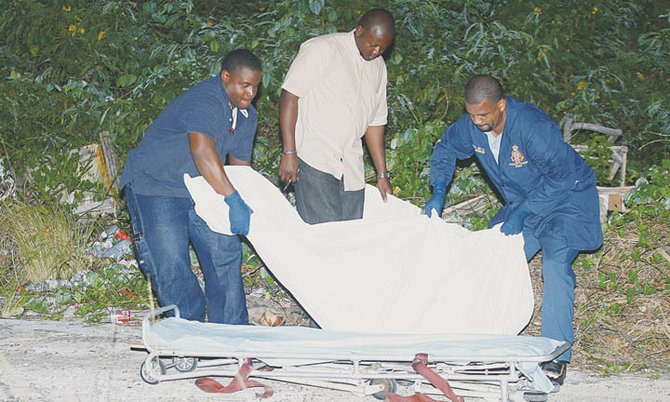 By SANCHESKA BROWN
Tribune Staff Reporter
sbrown@tribunemedia.net
A SERIOUS wave of violent crime could be about to sweep the capital, a former senator and longtime community activist warned yesterday.
Following a second execution-style murder in as many days, Rev CB Moss, executive director of Bahamas Against Crime, said all indicators point to the final months of 2012 being "rough", dangerous and deadly.
The former PLP senator said: "Most indicators and information from previously reliable sources points to a significant surge in serious crimes, including homicides, armed robberies, burglaries, housebreaking, and theft."
Rev Moss' comments came as police stepped up patrols in the Yellow Elder Gardens area, after two 19-year-old boys were gunned down in front of their homes.
Sources say the shooting death of Lamar Bain was in retaliation for the brutal murder of Elijah Roberts a few days earlier.
Supt Stephen Dean said police have increased their patrols in that area in order to "quell" a possible "situation".
"We believe that there was a connection, some relationship between the two shootings, but we are still trying to piece it together. It's all up in the air now. We believe there is a correlation and we are following that line as well as other lines of inquiries to find out what is going on," he said.
"We are channeling out resources to quell what could possibly be going on and we have also increased our patrols. The mere fact that there were two murders there so close together means we have to pay some more attention and double our resources, not only to solve the matter, but to ensure the community is safe. We have put direct focus there."
According to Rev Moss, the impending crime spike will be fuelled by a "renewed and intensified fight for turf" among the major drug gangs, the huge demand and pressure for cash for the Christmas season and the adaptation by criminals to new strategies and techniques recently implemented by law enforcement.
"Unless this potential surge is blunted, even if not reversed, the nation should brace itself for a very rough ride.
"While law enforcement has responded admirably to date, Bahamas Against Crime is concerned that a major spike would press them extremely hard," he said.
Over several years, Bahamas Against Crime has maintained that crime must be fought on three fronts: law enforcement, the criminal justice system, civil society. The best chance of stopping the crime surge, and beating back crime in general, is for the major stakeholders to become more actively involved in a comprehensive, focused "battle plan" for each of the three areas," Rev Moss said.
"Sadly to date this has not happened, and in spite of the good efforts of the police, the crime war rages on.
"Every major sector of the society must step up to the plate in a determined effort to beat back crime, not just to contain it.
"Bahamas Against Crime is convinced that success is within our grasp and we must not allow it to get away or be stagnated.
"The police, Urban Renewal, the justice system and community initiatives by the public and private sectors must be strongly supported by all," he said.