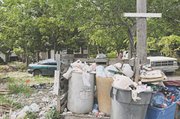 THROUGHOUT New Providence, garbage bins and roadsides are clogged with uncollected and overflowing piles of garbage, FNM leader Dr Hubert Minnis said.
As the trash continues to pile up and create a health hazard, he said it seems a state of paralysis has gripped the Department of Environmental Health.
Dr Minnis said: "The piles of garbage harbour rodents and other disease carrying vectors, such as mosquitoes, and contribute to an unfavourable image of filth and decay in our urban centres.
"Once again, under the PLP, it seems that Nassau has gone funky; roadside verges are largely un-maintained; pot-holes are un-filled, and drains and gutters are clogged with dirt.
He noted that the PLP budgeted $16 million for Urban Renewal 2.0, and have knocked down "a few, allegedly, abandoned buildings".
But, the FNM leader said, the government has also gutted the Budget of the Department of Environmental Health Services by assigning all contracts from that department to the over-burdened Ministry of Public Works.
"In an effort to strip all known FNM supporters of any contractual work, the new order of the day is that contracts 'go by favour' under the PLP," he said. "The result is mass confusion, lack of detailed scopes of work, and chronic neglect throughout the island of New Providence."
Dr Minnis said it seems that garbage collection is hampered by a lack of maintenance on the fleet of garbage trucks, and that there is little or no supervision by the Ministry of Public Works to ensure that contracts issued to "PLP cronies and contractors" are properly and efficiently performed.
"The chronic neglect of garbage collection strikes hardest in those traditional urban areas which are most loyal to the PLP, yet today, these areas are the most painfully neglected," Dr Minnis said.
"Additionally, many roads in the capital are deteriorating into pot-holed or rutted tracks, as the government seems unable to implement an effective, island-wide, system of occasional and responsive road maintenance. Such neglect and inefficiency is not to be expected of a governing party who solemnly promised to the Bahamian people that they would be 'ready on day one'.
"I wish to remind the government that environmental cleanliness is critical to the maintenance of public health.
"The piles of garbage, while also being an unsightly mess, attract and harbour disease-bearing animals and insects. More must be done, immediately, to address and to resolve this crisis.
"The FNM, in office, issued thousands of contracts to qualified, hard-working Bahamians, without regard to political affiliation. The PLP must remove politics and cronyism from their governance, otherwise Bahamians will continue to suffer."