BY DENISE MAYCOCK
Tribune Freeport Reporter
dmaycock@tribunemedia.net
FREEPORT – Emergency Medical Services personnel on Grand Bahama staged an unauthorised sick-out on Friday, according to reports reaching The Tribune.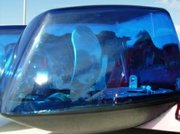 A reliable source telephoned the newspaper's office to report that none of the 35 EMS workers reported to work, severely affecting the department and critical ambulance services.

The Tribune contacted John Curtis, area vice president of the Bahamas Public Service Union, who stated that the union did not orchestrate or authorise any industrial action to be taken by the employees.
"While we did not orchestrate this, he said, "the union understands the plight of those workers and sympathises with the EMS staff in Freeport."
The workers are calling for full insurance coverage, access to protective gear, proper maintenance of ambulances, and education and training, among other things.
Mr Curtis stated that EMS workers had made several attempts to have a number of their issues addressed by the hospital administrator.
Administrator Catherine Weech could not be reached for comment for up to press time.
Mr Curtis stated that the workers are very concerned about exposure to dangerous chemicals and communicable diseases.

He noted that several persons had experienced respiratory difficulties after exposure to some chemical, and were refused treatment by hospital.
Additionally, he said, EMS workers responding to an emergency call were in close contact with a tuberculosis patient, who had to be transported to the hospital.

Mr Curtis said none of those individuals was tested by the hospital for exposure.
He also stated that the workers complained that ambulances are not being properly maintained by the Public Hospital Authority.
The union official stressed that it is unacceptable for staff to have to pay for vehicle maintenance.
"There was a situation where . . . the brakes on an ambulance needed to be checked and serviced, and so the staffer decided to take the vehicle to AID to have it serviced, and they were later advised by management that they would have to pay for it out of their salaries," he said.

Mr Curtis said the morale of workers was severely affected and they did not show up for work.
In a statement issued yesterday, the Public Hospitals Authority (PHA) said it activated its emergency response plan in response to the sick-out.
The activation plan involved the redeployment of medical staff from other areas of Grand Bahama Health Services and Emergency Medical Services in New Providence.
The move was deemed a priority following "a significant no-show" of Emergency Medical Services staff for the 4pm and 8pm shifts, the PHA said.