By CHESTER ROBARDS
Tribune Staff Reporter
crobards@tribunemedia.net
GRAND Bahama's Emergency Medical Service personnel staged a sick out Friday, forcing the Public Hospitals Authority to activate its emergency response plan, according to a PHA press release.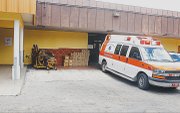 Medical staff from other areas of Grand Bahama and New Providence were dispatched to fill-in for staff who were out sick for the 4pm and 8pm shifts, the release said.
The Public Hospital Authority (PHA) said in its release that "the illegal industrial action by the staff of the Emergency Medical Services (EMS) has in no way compromised the quality, standard and delivery of our services."
A letter sent to Minister of Health, Dr. Perry Gomez, by the "staff of Emergency Medical Services", outlined several reasons they had for considering withholding their services. And the letter warned that if their suggestions and demands were not met within the time frame stated in the letter, that "we will continue to reserve our services to that which is required by law or observed by the practices of the National Emergency Medical Services of the Public Hospitals Authority."
In the letter the staff complained that their dispatch centre is understaffed, that they are in need of proper safety equipment and that they are in need of health insurance (apart from National Insurance). They are also asking for their fleet of ambulances to be expanded and decentralised and for more staff to be trained more frequently, among other things.
"It is disheartening that in the hopes of being an advocate for Grand Bahamians we feel that our only hope of the Authority providing a safe environment for us and one that is conducive to the best practice of patient care is by withholding care from the patients themselves," the staff said in the letter.
"We believe along with the government that health care is a right of the people and we are very sensitive to the economic environment that exists. However, in our view and from our observations, that we care at this point not to mention, believe that our problems are not those of a lack of resources but rather those of the poor prioritizing and deployment of resources."
The PHA in its press release revealed that it has already met two of the staff's demands, as new ambulances have already been ordered and reassigned, and the PHA said several EMS staff have recently received training.
EMS staff in New Providence were recently in the news complaining of similar problems they say stem from PHA operations.
"At this point it will be much better accepted that you (Minister of Health) or a Permanent Secretary from the Ministry be assigned to deal with the matter as we feel The Public Hospitals Authority and the Administration at the Rand Memorial have failed to address the matters," the staff letter said.