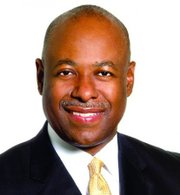 By SANCHESKA BROWN
Tribune Staff Reporter
sbrown@tribunemedia.net
TOURISM Minister Obie Wilchcombe said yesterday the government is "seeking to find out" what illegal activity could be taking place between Central America and the Bahamas.
His comments came after 18 immigrants were arrested in connection with an alleged smuggling ring from Panama. According to sources the group of Dominicans, West Indians, Cubans and Brazilians arrived in the Bahamas on Copa Airlines under the guise of being tourists at a local hotel, but were later discovered by Immigration officials in Freeport. It is believed they were attempting to be smuggled into South Florida.
Also last week, 37-year-old Sheldon Davis of Fox Hill was sentenced to four years in prison after he was caught at the Lynden Pindling International Airport with $2 million worth of heroin. He had just arrived from Panama on Copa Airlines.
A representative from Copa Airlines denied any association with a smuggling ring or any illegal activity.
Mr Wilchcombe said the government is looking into what happened. Copa Airlines, he said, has a reputation for being high class.
"It has international reputation of high distinction and every airline that comes to the Bahamas goes through a process where we determine whether or not the airline is sustainable, whether or not the airline has a reputation and is known globally. The truth is Copa is a wonderful airline, but, of course, whether it's any airline, if you are involved in criminal activity, you might seek to obtain a seat and you would try almost anything," he said.
"We are certainly looking to find out what happened and to ensure at all times that the security mechanism is in place. I think what is so significant is they come, they land and it just showed the diligence of the Immigration and Customs police to make sure that at the end of the day we are not finding ourselves being used as a transshipment ploy. So I don't think it's the airline itself, but perhaps individuals who are seeking to manipulate the airline."
Immigration Minister Fred Mitchell said Immigration is also keeping a close watch on possible illegal activity from Panama.
"What we know is that for some time security has been watching the traffic that comes via Panama and the connection to human smuggling that goes on. I have asked for a review of the matter to ensure we are doing everything we could. I have also spoken to American partners on this issue because it affects them as well. There is no evidence Copa Airlines is involved."
Copa Airlines began non-stop service from Panama to Nassau on June 15, 2011.