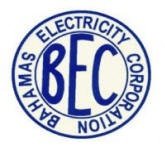 By NATARIO McKENZIE
Tribune Business Reporter
nmckenzie@tribunemedia.net
The Bahamas Electricity Corporation's (BEC) former executive chairman said yesterday that during his tenure some staff worked seven-day weeks, and 12 hours per day, to cope with the Clifton Pier power plant's maintenance backlog.
While unable to explain how some 13 BEC workers had, over an eight-month period from October 2011, earned a collective $600,000 in overtime - sums all more than their individual base salaries - Michael Moss said the nature of their jobs needed to be assessed to see if the earnings were "feasible".
He added that "a direct question" ought to be posed to BEC general manager Kevin Basden regarding those persons, as he would be able to tell whether the overtime was justified or if "some shenanigans were taking place that he was not aware of". It was possible, Mr Moss added, that an investigation might be required.
The former chairman also told Tribune Business that by getting Clifton Pier's maintenance schedule back on track, BEC had been able to reduce significantly overtime levels in its operations area and having to call people in on weekends.
Meanwhile, Bahamas Electrical Workers Union (BEWU) head, Stephano Greene, said the union was willing to work with the Corporation in its bid to reduce overtime costs, noting that employees were not able to dictate how many overtime hours they worked.
According to the BEC overtime report obtained by this newspaper, some 13 BEC workers pocketed more than $600,000 in overtime pay over eight months.
"I can't tell you where those figures came from and if they are true or not, but if it is true those persons do not make their own overtime," Mr Greene said.
"Someone who is senior to them has to come out and say that they need to work overtime. We have to remember that the line staff employees cannot determine what overtime they work; management has to tell them to work the overtime. That is important to note because I think a lot of people don't realise that.
"Even at the management level they have to get permission from their managers in order to come out to work. There is a system in place that no one at the bottom could determine what money they make and what overtime they make. The same way they are called out some days, there are many days when they are not called out."
BEC's executive chairman, Leslie Miller, revealed to Tribune Business last month that the corporation was looking to slash the more than $12 million it pays annually in employee overtime by implementing a shift system, explaining that overtime costs currently accounted for almost one-third of the corporation's payroll.
Mr Greene said: "The chairman made his statements, he made his position clear, he said that he is trying to reduce overtime, which the union has no problem with.
"We are going to try and work with the Corporation to do that, and we are going to try and work with the chairman and the Corporation to assist in any which way.
"We are willing to work with the Corporation, with the chairman, the Board, the Government if the position is that overtime is too high. Obviously there are systems that need to be corrected. We are willing to work with the Government,  Mr Basden and his team, the chairman to see how best we can work this out.
"We know that we have some deficiencies in the system, so purchasing the proper equipment and materials will help eliminate that. I think if you look at the Corporation's finances, cash flow is a problem."