By LAMECH JOHNSON
Tribune Staff Reporter
ljohnson@tribunemedia.net
A JAMAICAN woman told a Magistrate that she overstayed her time in the Bahamas because she witnessed an incident and was threatened not to go to the authorities, lest she and her family be harmed.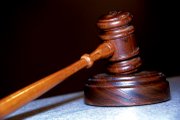 Jackie Anderson, 34, of Trelawny, Jamaica. told Magistrate Saboula Swain yesterday that it is common in Jamaica for witnesses to criminal incidents to be harmed or killed if they go to the authorities.
Anderson and co-accused 25-year-old Sally-Anne Brown of Kingston pleaded guilty to the charge of overstaying.
Anderson, who came to the Bahamas on June 14, was granted 15 days stay by Immigration officials. Brown, who came on June 1, was given 30 days. Both pleaded guilty and admitted to overstaying.
Immigration prosecutors read the facts concerning how the two Jamaicans were arrested. On September 17, a team of police and immigration officers acted on a tip that led them to a wooden house in Governor's Harbour.
Officers went to the back of the house after hearing shuffling and noises coming from the back of the property.
They captured three women, who had run into nearby bushes, and another woman who was hiding in the bathroom of the house.
The passports of the women were checked, which revealed that the two accused, Anderson and Brown had overstayed their time.
They were arrested and sent to Nassau where they were sent to the detention centre. Both accused accepted the facts read by the prosecutor.
Brown's attorney, Joseph D'Areuil, asked the magistrate to be lenient on his client who had no intention of breaking the laws and would've got an extension for her vacation if she had known where to go.
Anderson was then allowed to talk before being punished.
"I witnessed an incident and I come here to get away," she started.
"In Jamaica?" Magistrate Swain asked.
"Yes, in Jamaica" Anderson answered.
"If I go to the authorities, they say they was going to hurt me and my family.
"That's how they do it over there in Jamaica if you go to the authorities, they kill you," the Trelawney native said.
Magistrate Swain fined both women $2,000 or face a sentence of two years in jail.
The two Jamaicans were not the only immigrants to be fined in court yesterday.
Ten men, eight of them Dominicans and two Cubans, pleaded guilty to illegally landing in the Bahamas on September 14.
They were found drifting in waters off Cay Sal Bank by officers of the United States Coast Guard and were transported to Freeport, Grand Bahama, and later flown to Nassau to be detained and later charged.
All accused pleaded guilty to the charges and through the Spanish interpreter, said they did so because they were poor, had families, and were looking for a better life. They were not intending to land in the Bahamas, but were headed for Miami.
Magistrate Swain asked the interpreter to relay to them that the Bahamas has a right to protect its borders and they can't use the Bahamas as a transshipment point to another country.
They were fined $300 or faced with a six-month prison term. Deportation was ordered following the payment of the fine or completion of the sentence, "whichever comes sooner," the Magistrate said.