By KHRISNA VIRGIL
Tribune Staff Reporter
kvirgil@tribunemedia.net
OPPOSITION leader Dr Hubert Minnis said the future of Bahamas Petroleum Company's oil drilling hopes must be the subject a government decision, not a referendum.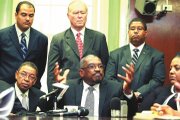 Dr Minnis urged Prime Minister Perry Christie to take a stand on the issue, rather than becoming same leader he was between 2002 and 2007 – who was known for failing to take action on crucial matters.
The FNM leader was speaking in response to the announcement that Bahamians can expect to vote on oil exploration soon after the North Abaco by-election is completed.
On Tuesday, the government announced North Abaconians will head to the polls October 15 to elect a new representative.
It was also recently announced that the government told BPC it had fulfilled all its required licence and regulatory obligations, which granted the oil company a licence renewal for another three years.
Yesterday, Dr Minnis said the PLP has gained the reputation of a government of referendums, leaving the Bahamian people to govern themselves.
The FNM leader also asked a series of questions regarding the past relationship between BPC and certain PLP leaders.
He said: "Why engage BPC as opposed to a more established oil conglomerate such as Chevron, Shell, Esso or another experienced, well-known entity? Moreover, one also wonders about the relationship between now Prime Minister Perry Christie, his Deputy Prime Philip Davis and BPC. 
"How much was Mr Christie paid for his consultancy and how much money was paid to the law firm Davis and Co for their representation of BPC?
"Even more, now that Christie and Davis are the Prime Minister and Deputy Prime Minister and the issue of BPC and oil drilling is now before them in their governmental capacities, which lawyer or law firm now has the legal portfolio to represent BPC? Does Davis and Co currently hold any funds in any escrow accounts for BPC?"
During the election campaign, Mr Christie admitted he did some consultancy work which benefitted BPC, but emphasised that his dealings with the company ended some time before.
Dr Minnis added: "We wonder if Mr Christie realises that now, having won 29 seats in the House of Assembly, the people have tasked him (and his party) with the role of governance.
"Mr Christie has become known for running governments of committees, of commissions and, now, of referendums. 
"Whilst one doesn't expect Mr. Christie and the PLP — considering their acts of political cowardice concerning gambling/numbers, oil drilling and many other decisions — to act to ensure that such an undertaking is in the national interest and that our national patrimony is protected, the FNM calls upon the Bahamian people to demand that the PLP carries out their mandate to govern," Dr Minnis said.