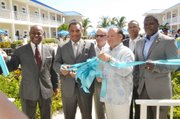 PRIME Minister Perry Christie officially opened the Blue Marlin Cove Condo Hotel Resort in West End, Grand Bahama, yesterday, heralding the transformation of the property from a 30 unit condominium to a 60 room hotel with restaurants, a recreational centre, and a health and beauty spa.
The capital investment in the resort to date by its principals, Brian F LeBourgeois and Frank Levy, amounts to some $10 million, with an additional $2 million likely, Mr Christie said.
"This boutique hotel will cater to a mixture of guests including fishing and boating enthusiasts, businessmen attracted by West End world famous fishing grounds and their families.
"Blue Marlin Cove will also be marketed as a high-tech and comfortable location where busy executives can unwind or attend conventions and enhance their professional skills through the use of distance learning technology.
"Additional employment and entrepreneurial opportunities are being created for Bahamians, especially residents of West End in the capital works being carried out and in the operation of the resort. This official opening affords me the opportunity to assure the people of Grand Bahama that my government is focused on a number of initiatives to revive, grow and sustain the economy of Grand Bahama."
Mr Christie said that he is "acutely aware" that the people of Grand Bahama elected his government to office because they believed the PLP is best suited to accomplish the "tremendous task" of creating jobs on the island.
With this in mind, he said, his administration created a Ministry for Grand Bahama headed by Dr Michael Darville, MP for Pineridge, to focus solely on Grand Bahama affairs.
Additionally, he said, he appointed Obie Wilchcombe, MP for West End and Bimini, as Minister of Tourism to "fire up" the tourist prospects for the island.
"Under my personal directions, these two ministers along with their other ministerial colleagues are giving priority to the needs of Grand Bahama. We are engaged each day with existing Bahamians and non-Bahamian enterprises as well as prospective new investors in creating the environment and introducing measures to stimulate the economy of Grand Bahama. In the coming weeks and months, these unceasing efforts are expected to create significant new jobs."