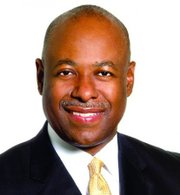 By NATARIO McKENZIE
Tribune Business
Reporter
nmckenzie@tribunemedia.net
TOURISM Minister Obie Wilchombe yesterday the Government was "modifying" Bahamasair's takeover of Vision Airlines' service to Grand Bahama, telling Tribune Business the $4-$5 million outlay demanded from his Ministry was simply too high and "not paying the dividends".
Bahamasair took over Vision Airlines' flights from Raleigh/Durham, Baltimore, Louisville and Richmond back in May, after the latter's programme had not performed up to expectations, operating at about 30 per cent load factors - far below the 65 per cent expectation.
Vision Airlines began flights to Grand Bahama last November 11, providing direct non-stop service from the five US cities. Its competitive low fares were expected to bring an additional 100,000 seats annually to Grand Bahama in its first phase of operations.
Bahamasair took over the service, initially on a wet lease basis, but Mr Wilchombe said yesterday: "We are modifying it a bit, and also we are talking to additional airlines to come and fill the gaps and be able to service the Bahamas markets in the US and outside the US, inclusive of Canada, to make sure that we are getting more airlift.
"We have to increase the numbers, we have to turn around Grand Bahama. We have all hands on deck and we are going after the markets, whether it is Latin America, Europe or North America. We are going after the markets to get more business into Grand Bahama."
Mr Wilchcombe added: "We have had to look at it [Bahamasair to Grand Bahama] again simply because the high cost was not paying the dividends.
"We thought that the programme was in markets where we we had no marketing going on. The programme was started and we don't believe that it was truly thought out and properly planned. We are moving now with other airlines to move into the gaps, and we will be talking about that very soon."
"One or two of the areas were doing OK, but generally the plan calls for almost a $4-$5 million outlay from the Ministry of Tourism alone and, in our view, that was a bit too costly given the fact that we have to put in marketing.
"There is much more to do and I believe we were paying for the risk. The risk level was much too high, and we were not getting the return that we wanted," said Mr Wilchcombe.
When asked about the status of the Grand Lucayan on Grand Bahama, Mr Wilchcombe would only say: "We are discussing with several properties in Grand Bahama how we are going to turn things around. The most I can say right now is that negotiations are continuing."