By KHRISNA VIRGIL
Tribune Staff Reporter
kvirgil@tribunemedia.net
THE mother of a disabled young man is appealing to the government for assistance after her son was allegedly shot by police, resulting in the loss of one of his kidneys.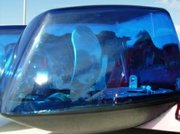 Patricia Clarke said she feared her 24-year-old son Reno Rolle was dead when she was called to his side on Wulff Road and Mackey Street where police said he had been accidentally shot.
The incident happened more than two months ago on July 5 while Reno was walking with relatives in the area.
Mrs Clarke said: "I met my son Reno sitting on the ground leaning up to a wall, an officer was holding him and fanning him. The officer said he got shot by them in his stomach, he lost a kidney and his pancreas was damaged because of the shooting. He was in intensive care fighting for his life, and was then moved to the ward.
"I then learned that the police just pulled up to him, pointed their gun at him, shot him."
Mrs Clarke said authorities have since admitted that they were at fault.
"I spoke with Mr Paul Rolle, head of the Central Detective Unit and an officer Demeritte. What they said to me is that he didn't have a gun and that he was an innocent man, so they have to solve this problem with Reno getting taken care of and him getting the help he needs."
The Tribune made calls to Mr Rolle, but was not successful in reaching him.
Footing her son's medical expenses alone, Mrs Clarke said, has been a great challenge as both she and her husband are unemployed. Reno, she said, continues to struggle with why he was shot.
"I have been footing all his medical expenses by myself. Right now he drinks a lot of water and I'm not working. I had to get him a med card. He has to now take this vaccine shot every five years for 55 years and it's on me. After this whole thing I had to go to the doctor to get myself checked out. I can hardly sleep because he wakes me up, he wants water. Only one kidney is just working, working, everywhere he goes he has to travel with water.
"I need some assistance for him, I cannot take this burden all alone. And I need the Minister to step up, him and Keith Bell need to step up. I will not allow the time to run on and they turn a blind eye to what they did.
"The doctors said if one kidney is gone and the next one is still good he can go on, but that is not the way he is seeing it, this is tripping him out."
Calls made to both ministers were unanswered.
While The Tribune's records did not show that the incident was reported, police spokeswoman Chrislyn Skippings said police had included the event in release 357 on July 5. However, the report was not received up to press time.