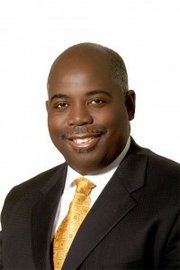 By DANA SMITH
Tribune Staff Reporter
dsmith@tribunemedia.net
THE Deputy Prime Minister will play a "very active" role as host of the 21st annual Caribbean Water and Waste-water Association Conference, which is set to attract more than 300 delegates to the Atlantis Resort.
The conference will take place next week and will be attended by Caribbean industry professionals who book more than 1,000 room nights in total at the hotel, according to press release from the Water and Sewerage Corporation.
WSC general manager Glen Laville was on hand for the announcement yesterday at WSC headquarters. He said the conference will not only address challenges faced by the industry but also offer professionals an opportunity to network. He also noted that next week's conference will be the third time the Bahamas has hosted the event.
"This year, the conference theme is 'Water and Waste Management in the Caribbean - Real Strategies and Solutions'. As we all know from our local experience, we face a myriad of challenges in the water, waste-water, and solid waste sectors and we require appropriate sustainable solutions that build long-term capacity within the sector, Mr Laville said.
Next week's conference will offer a "unique opportunity" for industry professionals to meet, discuss, share experiences, and develop strategies and solutions for the challenges faced throughout the Caribbean, he said.
He said a "highlight" of the conference will be the 8th annual High Level Session which will allow government officials responsible for water and sanitation to interact and discuss matters of regional importance.
"We're also pleased to note that the conference will be hosted by the honourable Philip 'Brave' Davis – the Deputy Prime Minister and Minister for Works and Urban Development," Mr Laville said. "He will also be very active at the opening ceremony and the award ceremony."
Conference chairman Cyprian Gibson said "big challenges" faced by Caribbean countries, such as non-revenue water and legislative reform, will be addressed at the conference.
He also drew attention to a "special feature" of the conference – the first annual water tasting contest with entries from water corporations around the Caribbean.
More than 300 delegates from 25 countries will be present at the conference along with more than 50 exhibitors, who will be displaying the "latest technology" in the water, waste-water, and solid waste sectors.
The conference runs from October 1 to 5.