By CHESTER ROBARDS
Tribune Senior Reporter
crobards@tribunemedia.net
THE FORMER government's 52-week programme will soon be evaluated to gauge its success, Prime Minister Perry Christie said yesterday – sounding sceptical that the job placement initiative did much to curb unemployment.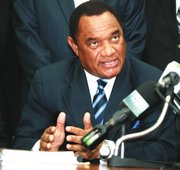 In fact, Mr Christie suggested the programme was used as a political tool by the Free National Movement to gain voter support ahead of May's general election, which the FNM lost.
"It was a programme put in place to get re-elected, not to significantly help people," he said. "Much more thought should go into such a strategy."
However, Mr Christie insisted he will not draw any final conclusions on the success of the 52-week programme until the audit is complete.
Still, the Prime Minister went on to criticise how much the programme has cost the government – about $48 million.
In the meantime, he said, his government remains committed to solving the social ills of joblessness and crime.
"We are compelled to urgent action," he said.
Mr Christie added that he is focused on attracting much more foreign investors to the country and increasing foreign direct investment, while integrating young Bahamians into the economy.
The FNM has vehemently defended its 52-week programme since becoming the opposition party, claiming it has created a number of permanent positions for Bahamians and suggesting the government is merely seeking to discredit their initiative.
"If I'm putting food in people's mouths, isn't that investing in Bahamians? Isn't that a good thing to spend public funds on?" former finance minister Zhivargo Laing asked.
"The government's response to my appeal to extend the 52-week employment programme for thousands of struggling Bahamians is that they cannot do it because they don't have the money since we, the FNM, left the country financially strapped.
"That is simply untrue because whatever the Christie administration wanted to provide for in the 2012/2013 budget, it did so."