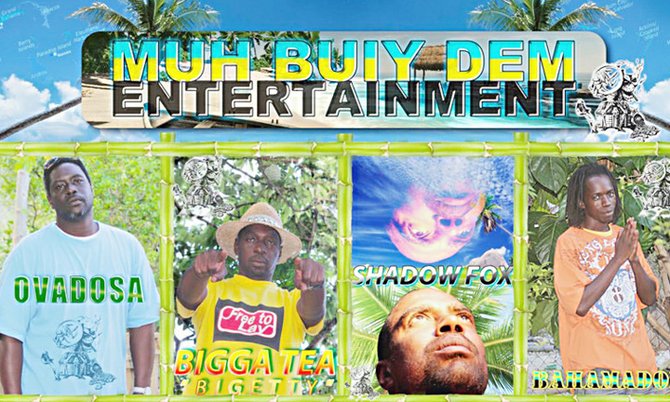 By FARAH
Tribune Features Writer
jgibson@tribunemedia.net
BAHAMIAN music is in "danger", according to one local group, as the very rhythms that make up the style are neither preserved or marketed the way they should be.
Muy Buiy Dem Entertainment is determined to create a demand for Bahamian music
A new Junkanoo beat recently released is the group's attempt to do just that. With this new Junkanoo beat the group said Bahamians can expect to hear more Junkanoo music all year round instead of twice a year and sometimes during the Summer months.
"The new Junkanoo beat we have been promoting is heavily doused with sounds and rhythms indigenous to the Bahamas and Bahamian culture. It contains native instruments of rake n scrape, and more notably cowbells, drums, and other instruments of Junkanoo.
The sound is new and gives a potent fusion of African drums and Caribbean spice that captures your attention. The vocals are one hundred percent Bahamian dialect. Our Bahamian dialect is watered down in most cases by up and coming artists," said Bigga Tea of Muy Buiy Dem.
The group's inspiration to create a Junkanoo beat came from a desire to hear what they call authentic Bahamian music. Bigga Tea said too often Bahamian musicians neglect the culture of the Bahamas, only to become carbon copies of international musicians. He said just how other countries can sell their music and culture, such as reggae and rap, the Bahamas can do the same and be successful too.
On one occasion the group said it was bombarded by questions and comments from a visitor who said during their entire time in the Bahamas they heard mostly reggae and rap music played on the radio stations.
"It's crucially important for the group to stay true to Bahamian roots especially when the essence of our music is in danger of being lost. The majority of aspiring young Bahamian artists are copying what they see on television. They do not realize that they are promoting the culture of others," he said
"Junkanoo is almost two hundred years old and even up to now it is still not being promoted and marketed to the world like it should. In a time when the whole world is looking for real roots and culture we are being selfish with ours. Other countries are selling their culture so good to us, til Bahamians young and old are pretending to be American or Jamaican."
Apart from the new Junkanoo beat, Muy Buiy Dem also released a new song "Regatta Time" earlier in the year that won them the Ministry of Youth, Sports and Culture's National Regatta Song competition.
"Regatta time is a song about the true regatta experience. From the mailboat and charter planes to the hospitality of the island folks and the captivating competition of different class boats. The regatta time song practically is a typical Bahamian regatta experience and the sweet memories that are created during the festival," Bigga Tea said.
Despite winning the National Regatta Song Competition,
"Regatta Time" has not been played on local radio stations or at any regatta festivals though regatta season is coming to a close, said Bigga Tea.
In the meantime the group will continue promoting a new release, "It Ruff Around Here", which touches on the controversial subject of gambling in the Bahamas.
Muy Buiy Dem Entertainment came together in 1995.
Three years later they officially registered as an international music publishing company and record label. Muh Buiy Dem Entertainment also consists of sub groups such as Mysic Elite and Omega Supreme. Current members of Muy Buiy Dem include Ovadosa, Bigga Tea, Shadow Fox and Bahamadon.