By CHESTER ROBARDS
Tribune Senior Reporter
crobards@tribunemedia.net
WHILE Prime Minister Perry Christie will not say how much the UK firm Dixon Wilson is being paid to advise the government on a national lottery and the legalisation of gambling, he explained that the private sector is footing a part of the bill.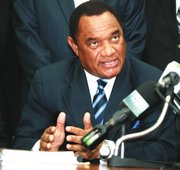 Speaking to the media outside the Cabinet office yesterday, Mr Christie said local casinos have also contributed to the cost of the consultancy, and that the Bahamas Hotel Association (BHA) has made a "significant contribution".
He said Dixon Wilson met with casino operators, owners of number houses and government officials in order to flesh out a plan for the legalisation of gambling should the country vote in favour of this move in a soon-to-come referendum.
Mr Christie has still not announced a date for the referendum, maintaining his silence when prodded by reporters yesterday.
He has promised the referendum would take place before the end of the year.
While some have questioned the feasibility of paying for consultancy before knowing if the country will support the legalisation of gambling or not, Mr Christie said it was important because of the scope of implementing a referendum.
He insisted consultancy is necessary to determining what exactly the government should be asking the Bahamian people in the first place.
Mr Christie said the Bahamas has used Dixon Wilson for almost 20 years now.
"It is a complex issue and we want to ensure it is done properly," he said. "We want to bring integrity to it."
While casino gambling is not expected to be opened to Bahamians through the referendum, Mr Christie mentioned yesterday that casino operators feel they are "not as competitive as they could be".
It has also been suggested that casino style gambling online could remain outlawed so it does not clash with the interests of casino chiefs.