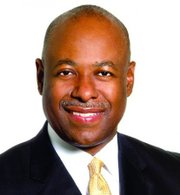 By NATARIO McKENZIE
Tribune Business Reporter
nmckenzie@tribunemedia.net
THE Ministry of Tourism (MOT) will introduce an online booking system for Family Islands resorts in January 2013, the minister of tourism said yesterday, noting that many properties were challenged on reservations.
Speaking at the ninth annual Abaco Business Outlook conference, Obie Wilchcombe said: "One of the things that we are doing for the islands is online bookings. The islands don't have a way now to get the bookings they want; some do but many don't.
"The Ministry of Tourism is creating an online booking system that will take effect come January, where you could call in to our call centre. We are going to make sure people can book, talk about and find out information about the country."


Mr Wilchcombe said a greater emphasis would be placed on marketing the Family Islands and highlighting them individually.
"The Out Island Promotions Board had gotten an allocation of $700,000 from the Ministry; I upped it to $1 million. That's not enough to market these islands," he said.
"A programme that we are going to introduce just to market Grand Bahama is going to cost us $3.5 million, just to get Grand Bahama back on its feet.
"The way the Ministry of Tourism is approaching our new mandate is we are looking at the Bahamas differently. We recognise that every single island has an identity. Our country has, for the most part, not focused as much as we should have on the Family Islands. Each island is different, each island has different offerings, but we have to find ways to capitalise on these different offerings," said Mr Wilchcombe.
"Abaco has almost 20 per cent arrivals from the European market. That trend tells me that there is something special happening here. We have to get the message to places in Europe and other places in the world. We intend to make sure that every single island in the Bahamas is properly marketed."
Mr Wilchcombe added: "The Ministry of Tourism is now engaging in a new approach. We are engaging in digital platform marketing. Right now we expect to have our entire campaign laid out in January of next year. The campaign will not simply have the Bahamas as a generic place but all the other islands.
"We are also developing some new television ads and print ads to focus on the individual islands."
Mr Wilchcombe said the Ministry's marketing budget is $85 million, most of which has been spent on promoting New Providence.