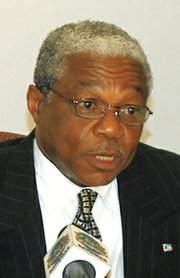 By CELESTE NIXON
Tribune Staff Reporter
cnixon@tribunemedia.net
HIGH school dropouts are at the forefront of a new era of high-tech crime, according to Minister of National Security Dr Bernard Nottage.
Warning against the misconception that who leave high school early are uneducated, Dr Nottage said many intelligent dropouts are bringing a degree of organisation to street gangs and other criminal enterprises.
At the same time, he said, the cellular and internet age has ushered in a new era of crime which is being led by a generation of "technologically astute" young criminals.
For these reasons, Dr Nottage said, the government will move swiftly to address the high and growing rate of drop outs as part of its crime fighting strategy.
He said officials will also target the problem of falling grades, particularly among male students.
Dr Nottage said the government plans to attack the gang culture by exposing Bahamian youths – many of whom are drawn to the culture at a young age – to a series of positive activities through the re-establishment of the Urban Renewal Programme.
"With the implementation of Urban Renewal 2.0, our young people will be exposed to those activities that would result in the proper development of the future of our nation," he said.
"Character building blocks such as hard work, motivation, discipline, respect for the property of others, nurturing, role modelling, and mentorship are but a sample of what we endeavour to see in those who are a part of the various Urban Renewal programmes."