By BRENT STUBBS
Senior Sports Reporter
bstubbs@tribunemedia.net
WHILE they have been rivals on the track, American 400 metre specialist LaShawn Merritt said he and Chris 'Fireman' Brown have forged such a close relationship that he would not miss the opportunity to come to the Bahamas to participate in his Invitational.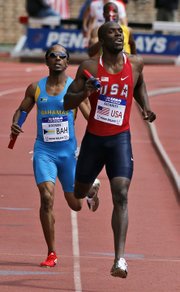 Merritt, in a conference call with The Tribune yesterday, confirmed that he will be here to compete in the 200 metres in the initial Chris Brown Invitational at the new Thomas A Robinson Track and Field Stadium against Grand Bahamian quartermiler Demetrius Pinder on Saturday, April 13.
"Me and Chris are like brothers. Whenever we see each other, it's like 'what's up brother,'" Merritt said. "He's a good dude. I trained with him and I competed against him for a few years. When I came into the sport, I was 18 and he was in the first group that I trained with. He was a little older than I was, so he taught me some things in training.
"Then we would get into some races, but the chemistry has always been there. For him to be putting on the Chris Brown Invitational is a big deal. So I told him how proud of him and the Bahamian 4 x 400 metres team that won the gold last year (at the Olympic Games in London, England). So I'm proud and happy for him."
When he heard about the meet, Merritt said he couldn't pass up the invitation to be a part of the field of competitors coming in.
"I want to support Chris in something that he is doing and always get the opportunity to come to the beautiful island of the Bahamas," Merritt said. "It's always beautiful weather there and I know the fans are track and field fans in the Bahamas and with the fans and music, I know the track meet is going to be incredible."
Although they won't get a chance to renew their rivalry at the meet as Brown will not be competing, Merritt said he's in Florida getting prepared to compete against whoever lines up on the track in the half-lap race.
"I'm here in Florida putting in the work that I need to," he said. "I'd come there and run a 200. It's beautiful weather here, so to come there and be relaxed, the volume is going to be turned up. It's the first meet of its kind in the Bahamas in a new stadium. With so many great athletes coming, I'm excited. I'm ready to come up there and definitely run fast."
In London, Merritt suffered an injury that prevented him from defending his Olympic title in the 400 that he relinquished to Grenada's Kirani James. James is expected to highlight the field in the 400 metres at the Chris Brown Invitational.
Merritt said he was disappointed that he didn't get to compete against the Bahamas when they dethroned the United States in the 4 x 400 relay.
"It was a little heart-breaking for me because I wasn't able to go and battle like we always do, but it will be another day," Merritt said. "It was their time. They ran well. I felt like we had a strong team. I'm not the only man on the 4 x 4 team. It was time for the other men to step up. But the Bahamians stepped up. We ran well. But they got the gold. They deserved it. I congratulated them about it. But it's a battle sport and we will go at it again."
That opportunity obviously will come in Moscow, Russia, in August when the IAAF World Championships is all set to take place. And Merritt vowed to give the Bahamians a taste of what to expect from him when he comes here for the Invitational in less than two weeks.
"The match-up is always a great match-up. If we didn't win it, the persons or the group that I wanted to win it, won it," Merritt said. "I have a great relationship with everybody on that 4 x 4 relay team, so I was excited for them. This year is a new year. The World Championships is coming up and hopefully everybody will be healthy and we will line up and go at it again."
Brown, who is already in town completing all of the logistics for the meet, said he's deighted to have an athlete like Merritt on the list. "Just the simple fact that I can call my good friends and my competitors on the phone and asked them to lend a favour, it's all about the camaraderie that we have developed," Brown said. "We respect one another on and off the track. We have a good friendship from way back and we talk a lot of foolishness.
"So it feels good to know that these guys can come here off a phone call when you ask them to do you a favour. So I feel pretty good to have guys like LaShawn here."
As for the showdown between the two, Merritt said he's sure that as the meet continues to grow, there's going to be the opportunity for him and Brown to eventually clash in the Bahamas and he will be looking forward to the opportunity whenever it presents itself.
Brown, on the other hand, said after watching the BTC Carifta Games over the Easter holiday weekend, he's eager to come back and put on what he expects will be another exciting meet for the public to come out and watch on April 13.
"I just want to give the Lord all praise and credit for blessing us with this magnificent stadium," Brown said. "To come home and watch the Bahamian public embrace this stadium and throw their support behind the Bahamian team, it's a joy and a pleasure and I look forward to the future.
"Everything looks to be in place. I'm sure that me and my team will meet and go over the logistics and iron out the things that we need to correct. I was pleased with the security level from the Royal Bahamas Police and Defense Forces, so once the people come out, I'm sure that we will have a very good meet."
In addition to Merritt and James, the meet is expected to attract athletes such as Jamaican sprinter Veronica Campbell-Brown, American sprinters Justin Gatlin, Wallace Spearman and Darvis Patton, just to name a few, along with Pinder, Michael Mathieu, Ramon Miller, Trevor Barry, Donald Thomas and Shamar Sands. "We're looking forward to really putting on a great meet and set a pace for the rest of the Caribbean to follow."