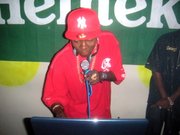 By LESH
Tribune Features Reporter
acadet@tribunemedia.net
HIS RISE to popularity started from humble beginnings in the small community of Englerston, Nassau. Through the many trials he had to overcome, Tiko, also known as DJ Chronic, has risen to the top of his game.
His father, Vincent T, was also known as a popular entertainer. DJ Chronic said he aspired to be just like his father until his dad told him to "be better."
"I went from being Tiko T, Vincent T's son, to being DJ Chronic. A lot of people look at him and ask, aren't you Chronic's daddy? So it isn't Vincent T's son anymore, it's the other way around. And he loves that. Anytime he hears me playing, it sends goose bumps through him," DJ Chronic told In Ya Ear.
He said he may not have the best relationship with his father, but the mutual love they share is special. He refers to his father as his coach.
"All aspects and every part of this business, any question I have about it, I can go to him. He really taught me the basics. I learned how to play from playing off record players; he taught me how to start it. He didn't put everything in the front of me and said let me show you how to do it. He more so told me what to do then watched me do it myself," said DJ Chronic.
Speaking about his deejay name, DJ Chronic said it came in his younger days, when he would do a lot of talking on the mic set
"My name is Tiko, so my stage name use to be Tiko T, because of my daddy Vincent T. That was the only name I had first and I got the name chronic because I started to play in a ghetto dance club. A few times I played there; there were some grown folks that came up to me and said, when I start to play I put them in a trance. They said the music would have them high. So I started to think of a name I could use, and the following week someone came up to me and asked what my name was because they wanted to recommend me for a party," said DJ Chronic.
He said he wanted a name that would cause some sort of controversy. "Some people may think I'm Chronic because it involves people that smoke, but if you actually check out the meaning of the word, you will find out that it has many meanings. I call myself Chronic because I use music to put people in a trance. I can have you in a trance for like an hour or two. I could make you feel like you are back in the sixties or the eighties when I play, any era you want to go to," said DJ Chronic.
From the age of fifteen, DJ Chronic said he would play at "Larry's Pub".
"The trick with me was I never did anything wrong in my mother's eye sight. She knew that music was the number one thing I loved. Anything that had to do with music, she was all for me. So I had to go in early and leave early. But people would come early so they could watch me. It was also a dance by the name of "602". From there I went to the 50 Yard Line Club, and then to the Warehouse Club," said DJ Chronic.
His love for the music grew as years went by.
The days of Club Erupt with the Alliance Group hold some of the most memorable experiences for DJ Chronic.
"I didn't want to just be in a group, I wanted something bigger. When we were in Club Erupt, it was me, Xtra Large, Big Doobs, War Tanker, Lil Dwight, International Chris, Babyface, DJ Hype, it was like a family," said DJ Chronic.
Held on Sunday nights, DJ Chronic said he could not wait for Sundays just to go to work, not for the money, but for the atmosphere and the love of music, he said.
Some music enthusiasts might also remember DJ Chronic's very first live deejaying CD, Chronic Live 1 and 2. He said he had no intentions on starting the live deejaying trend, it happened almost accidentally.
"We were playing at the Warehouse and Alpha Sounds was one of the biggest suppliers in CDs in the deejay field. We recorded the first two CDs, Chronic Live 1 and Chronic Live 2, but the trick about those CDs, there were only 12 people in the club. But everyone thought the club was packed by listening to the CD. I can remember a time I was on a bicycle going to the gas station and I heard someone playing a CD. I was saying to myself the person on the CD was carrying on bad, I was trying to figure out if it was someone new. When I heard the person say "Mayzame Woy, we in the Warehouse,"
I noticed it was me. I started to ride behind the car, but he didn't stop," said DJ Chronic.
He said he went home, where he called Selector Ty, a friend of his at Alpha Sounds. After finding out that the CDs were being sold heavily at the store, DJ Chronic said he got himself one. "By the time I went back home, I don't know how but almost every car and bus passing was playing the CD. It made me wonder why every one liked it. Years went by and I finally understood why people wanted it. Nothing on the CD was fabricated. Everything I said on stage and on the CD, came from the bottom of my heart. If you listen to the first 2 CDs by me, it was like a major blue print for DJ Chronic," he said.