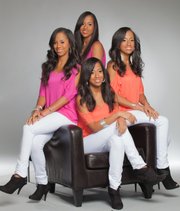 By ALESHA CADET
Tribune Features Reporter
acadet@tribunemedia.net
The Pyfrom sisters have never been short on fame; they were well known in the Bahamas from the day they were born as quadruplets.
The identical 'Quad sisters' who make up the musical group "FourEver1" are pursuing opportunities to achieve global recognition for their musical talents.
Janelle, Jodi, Catherine and Christina are in the process of releasing a new single "Bahama Islands", a song they say is fitting for times, as the country approaches its 40th anniversary of independence.
Speaking on behalf of the group, Jodi told Tribune Entertainment: "We also wanted a song that promoted the Bahamas, a song that would bring more tourists here. This song Bahama Islands actually came from a song called "Sun Sand and Sea" back in 1975, which was written by my dad's friend Kirk Carey."
She said the song was improved with new music, and rewritten with new lyrics and lots of harmony.
"Back in 1975 there was only one radio station so the song did not get that much promotion as it should. Also Kirk's band that recorded the song, came to an end shortly after releasing it," said Jodi.
She said the song "Bahama Islands" was arranged and re-written by Kirk Carey and produced by Chris " Sketch" Carey.
"The message of the song is letting people know that the Bahamas is not just one Island, but actually seven hundred. It lets people know about the beauty of the Bahamas and some of the unique natural resources that we have to offer. It welcomes them to the Bahamas," said Jodi.
In the past, the quadruplets released singles such as "Life Of The Party", "My Type",
"Rise Until The End", "More Than Enough", "Back Door", "High With The Wind" and " BFF", which was produced in Atlanta with the world known producer Jazze Pha.
Now at the age of 17, Jodi said it was a dream for her and her sisters to make a singing career from the age of 13.
"We started voice training with Lee Callender around the age of 13 and we stayed with him approximately three years. Now we do voice training on our own. We also spent some time with Jan "Mama Jan" Smith in Atlanta. Mama Jan is respected to be one of the top voice trainers in the world. She is the voice trainer of some of the world's top artists like Usher, Justin Beiber and she also worked with Adele," said Jodi.
Sharing more on their singing history, Jodi said: "About four to five years ago our parents took us to a Rihanna concert in Miami and Janelle turned to mommy and said,
'This is what I want to do.' We all agreed that this was indeed what all of us wanted to do, and as soon as we came back to the Bahamas we decided to hit the studio, coming out with our first single "Life Of The Party."
Jodi recalled a performance at a Rotary Christmas event at Crystal Palace, calling it their most memorable ever. She said FourEver1 has also had the opportunity to perform at the Bahamas International Film Festival in 2011 at the Atlantis Ballroom, a Jingle Bell Rock Concert at Botanical Gardens, and a Food Festival held at Botanical Gardens.
She said the group is working on releasing a music video for the upcoming "Bahama Islands" single, but cost is a factor.
While there are opportunities for musicians in the Bahamas, Jodi said the opportunities that are available are very limited. She said in order to be successful artists have to take their talent to a global level.
Also working on music releases for their songs, "Game Over" a club banger and
"BFF" (Best Friend Forever), Jodi said: "We are trying to have a proper release party to release everything but we are not sure as to when yet, as it is very expensive to do it in the proper environment. We are also looking forward to hitting the international scene very soon."
For more information on FourEver1, check out www.fourever1.com.