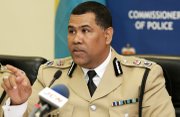 By DANA SMITH
Tribune Staff Reporter
dsmith@tribunemedia.net
THREE police officers have been dismissed from the Royal Bahamas Police Force and its Complaints and Corruption Unit has a new chief.
Police Commissioner Ellison Greenslade announced the moves yesterday, acknowledging widespread public concern over alleged police misconduct.
He said he put a new person in charge of the unit because police had been receiving "far too many complaints" from the public.
He said that when officers break the law it "really causes a problem" with the image and credibility of the entire force, adding that police had not been receiving "good reports" as of late.
"We live in a vibrant democracy and there is still the rule of law which pertains; and the fact that we have an organisation which over time has fine-tuned policies and procedures - when things happen, we take action," Mr Greenslade said.
"So subsequent to a number of those reports, officers have been interviewed, questioned, and in fact, charged. I was just able to brief my minister this morning and spoke pointedly to the dismissal from the force of three officers."
Mr Greenslade said he would provide up-to-date statistics of the number of officers who have "moved on" from the force when the information is compiled.
"Where officers offend against the law, it really causes us a problem with the image of the organisation, the credibility of the organisation, and it shakes public confidence," he said.
"But what you must understand is, the vast majority of our people are hard-working, committed officers. They are from your homes; they are your children; they are your relatives and friends that come to work every day and they do the best that they can for you and I would like us to sometimes focus on that."
Complaints against police officers are filed through the Complaints and Corruption Unit and the commissioner announced he has placed a new person - Supt Melvin Lundy - in charge of the unit in an effort to improve efficiency.
"I have made changes because I wasn't satisfied with the state of affairs," he said. "We've received far too many complaints from members of the public. I am the leader of the organisation, it's my right to make those decisions. If the public is not satisfied, then I must listen and I must take actions that are necessary.
"The public has spoken loudly and they have said, 'The commissioner is taking too long - I don't form an impression that you're taking seriously the report I've given you'. And so we have in place a leader now who has demonstrated to me in the week that he's been in post, that he understands clearly the mandate, understands clearly what is it that the public wishes, and certainly what the commissioner expects."
Over the past holiday weekend, Mr Greenslade said, he had looked at three complaint files and those files have been brought to a conclusion.
"I believe the public will be very, very pleased going forward and we're going to continue to try to make the improvements to move those files much faster," he said.
The commissioner dubbed Supt Lundy "a distinguished young man" who he has a lot of confidence in.
"(He is) a decent man that's given a good account of himself over the course of the year and has a good team with him," Mr Greenslade said. "His team has always been doing good work and so we're going to give them the support they need and hope that they will do what is expected of them by the public and certainly by the commissioner."