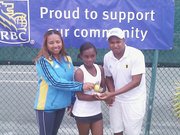 THE Bahamas Lawn Tennis Association completed its RBC-sponsored Junior Clay Court Tennis Tournament at the Gym Tennis Club over the weekend.
Top seed Michael Major Jr won the boys' under-8 singles title with a 6-0, 6-0 win over Dentry Mortimer.
No.2 seed Donte Armbrister pulled off an upset in the boys' 12 singles when he won the title over top seed Jacobi Bain 6-3, 7-6, 7-5.
Armbrister advanced to the final by beating Ryan Fox 6-2, 6-3, while Bain advanced with a 6-0, 6-1 decision over Denail Nottage in their semifinal matches.
Top seed O'neil Mortimer pulled off a 6-2, 6-1 decision over No.2 seed Danny Wallace. In their semifinal match, Mortimer knocked off Bradley Fowler 6-2, 6-1 and Wallace beat Ahmad Thompson by default.
Top seed Shannon Francis won the boys' 16 title with a 6-2, 6-2 decision over Joshua Turnquest. Francis got into the final with a 6-0, 6-0 victory over Amir Poole and Turnquest upset No.2 seed Daylan Walker 6-4, 5-7, 7-5.
In the girls' division, Saachi Pendharkar won the 10-and-under singles title with a 4-0, 4-0 win over Shannon Donaldson.
In the under-12 girls, unseeded Elana Mackey won 7-6, 0-6, 11-9 over top seed Sydney Clarke for the title.
Mackey also upset No.2 seed Emma Weech 6-0, 6-3 in her semifinal match and Clarke won 6-0, 6-0 over Maya Weech in her match.
No.2 seed Laryn Daxon won 6-3, 6-1 over top seed Sierra Donaldson for the girls' 14s singles title.
Daxon beat Candace Mortier 6-4, 6-4 in their semifinal match and Donaldson won 6-1, 6-1 over O'Kiehl Cole-Cash.
And in the girls' 16-and-under division, top seed Gabriella Donaldson won the title with a 6-0, 6-0 decision over Sowmya Thottambeti.
In the semifinal, Donaldson won 6-2, 6-1 over Evanique Munroe, while Thottambeti beat No.2 seed Shay-tonya Missick by default.