By LAMECH JOHNSON
Tribune Staff Reporter
ljohnson@tribunemedia.net
TWO pilots standing trial in Magistrates Court in connection with the seizure of $250,000 worth of cocaine two years ago were convicted and sentenced yesterday.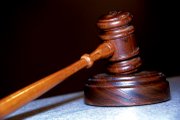 Patrick Pyfrom, 48, and Valentino Collie, 41, were told by Deputy Chief Magistrate Carolita Bethell that they abused and breached the trust bestowed upon them as pilots with access to the Lynden Pindling International Airport.
Pyfrom and Collie faced four drug charges which they denied – importation of dangerous drugs, conspiracy to import dangerous drugs, possession of dangerous drugs with intent to supply and conspiracy to possess dangerous with intent to supply.
It is alleged that they committed these crimes on January 16, 2011, after flying the drugs from Providenciales, Turks and Caicos.
On the day in question, both men were arrested by police at LPIA after disembarking from a private plane.
The drugs, weighing 41 pounds and valued $256,000, was found in a suitcase that was being carried off the plane.
During pleas in mitigation, attorney Murrio Ducile, who defended Pyfrom, noted that his client has led a productive life for 48 years with no previous convictions and was not a danger to society.
He also asked the magistrate to bear in mind that his client has "certain medical issues at this time".
Donna Major, who represented Collie, also noted that her client was a law abiding citizen with no antecedents up to the time of conviction.
Ms Major asked the court to use it discretion and be as lenient as possible on the father of three and pilot of 23 years.
The magistrate addressed the men and said that it is "always sad when persons that have what you have" descend to the level of bringing drugs into the country.
She noted that it was a large quantity of drugs.
"You've breached all the trust bestowed upon you," she said, noting that as pilots, they had unrestricted access to the airport.
"You chose on this occasion to bring drugs and sought to bypass immigration and customs, using what you have," she said.
The magistrate, in sentencing them, took into account their clean records prior to conviction and the amount of drugs involved.
She sentenced them to three years imprisonment on each count, to run concurrently, and ordered the $2,548 found and the aircraft itself to be confiscated.
The sentence runs from the day of conviction.