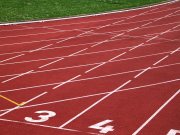 TRACK
COB INVITATIONAL
THE College of the Bahamas is scheduled to hold its Track and Field Meet at the new Thomas A Robinson Track and Field Stadium on Saturday.
The meet is expected to feature teams from COB, Bethune-Cookman University, Waner College, local clubs and intermediate and junior high school relay teams. And it is slated to begin at 11am with the javelin and pole vault for men and open and wrap up at 6:30pm with the men's 4 x 400 metre relay.
The meet is being sponsored by Burns House Group of Companies through Vitamalt, the Caribbean Bottling Company Limited through Coca-Cola, the Royal Bahamas Defence Force, the Bahamas Telecommunication Company (BTC), Phil's Food Services and Asa H Pritchard.
The meet director is Bradley Cooper. For further information, Cooper can be contacted at bcooper@cob.edu.bs or call 302-4592.
SOFTBALL
NPOTSA ACTION
THE New Providence Oldtimers Softball Association is scheduled to begin its 2013 season at the Archdeacon William Thompson Softball Park, Southern Recreation Grounds, this weekend.
Saturday's schedule
11am - Carbinet World vs Strong Back
1.30pm - Opening Ceremony
2.30pm - Stubbs Equipment vs AGC Builders
Sunday
1:30pm - QClub vs BTC
3pm - Masters League - game 5 championship series - Jets vs Truckers
BANKERS SOFTBALL
THE Bankers Softball League is slated to officially begin at the Banker's Field, Baillou Hills Sporting Complex, on Saturday.
10:30am - Commonwealth Bank vs Colina
Noon - BAF Financial vs Scotia Bank
1:30pm - CitiBank vs Fidelity
3pm - RBC vs CIBC
BASKETBALL
GATEWAY CLASSIC
THE 2013 Gateway Eagles Classic Tournament got started in Bimini on Wednesday. The following results were posted:
Junior Boys
Catholic High defeated Louise McDonald 24-21 as Christian Outten scored eight points in the win.
Atavius Saunders had a game high 13 points in the loss.
Abaco Marlins defeated Gateway Eagles 42-18 as Vesley Raymonville scored a game high 15 points in the win. Justin Jadorte had five points in the loss.
Senior Boys
Gateway Eagles defeated Abaco Marlins 59-51 as Gregory Goodman scored a game high 16 points in the win. Malik Penn had 12 points in the loss.
BASKETBALL
BSC ACTION
THE Baptist Sports Council is scheduled to resume play in its 2013 Basketball Classic at the Baillou Hills Sporting Complex on Saturday after taking a break for the Easter holidays. The games on tap for Saturday are as follows:
Court One
10am - Latter-Day vs Macedonia (15)
11am - St John's vs Mt Nebo (15)
Noon - St John's vs Latter-Day 1 (19)
1pm - Mt Nebo vs Latter-Day 2 (19)
2pm - St Mark's vs Faith United (19)
3pm - Macedonia vs Golden Gates 2 (M)
4pm - BIBA vs Latter-Day (M)
Court Two
10am - Faith United vs Cousin McPhee (15)
11am - Cousin McPhee vs Faith United (15)
Noon - Macedonia 2 vs Faith United (19)
1pm - Macedonia 1 vs Golden Gates (19)
2pm - Golden Gates 1 vs St John's (M)
3pm - Men of Vision vs BIBA (M)
4pm - Faith United vs St John's (M)