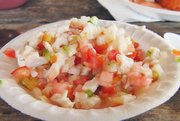 By NATARIO McKENZIE
Tribune Business Reporter
nmckenzie@tribunemedia.net
A "CONCHSERVATION campaign" is set to be fully launched nearing the end of this month according to Bahamas National Trust (BNT) executive director Eric Carey, who said that there would a national dialogue on the sustainability and preservation of the Bahamian conch population.
Speaking at a press conference to announce the upcoming inaugural Abaco Business Outlook, Mr Carey said: "The conchservation campaign is up and running. We are going to have a full launch of that programme on April 27 working with Ms Elaine Pinder, Frankie Gone Bananas, the Bamboo Shack franchise, Kalik etc. The objective is sustainability whether your talking businesses and economy, conch or grouper, the objective is to ensure that Bahamians can always enjoy these things. We are fortunately not in a position we ever have to sound crazy alarms about conch. We believe that we can continue to eat conch as a important food, culinary icon and part of tourism culinary picture. We still have enough conch to continue to enjoy which is why we want to act very quickly to ensure that we don't reach a point where we have to go to extremes that Bahamians find untenable."
The Bahamas currently exports some $3.3 million, or 600,000 pounds, worth of conch per annum. A 2011 report by Community Conch, an organisation involved in the sustainability discussions, revealed that juvenile populations in important Berry Islands nursery grounds had "declined 1,000 times to a few hundred individuals in 2009" when compared to 1980s numbers. As for Andros, of the eight historic fishing grounds surveyed, only one in 2010 had a large enough adult conch population to permit reproduction. And, in Exuma, Community Conch found that the adult conch population on Lee Stocking Island had fallen by 91 per cent between 1994 and 2011, with the bank population in the Exuma Cays Land and Sea Park off by 69 per cent over the same period.
Mr Carey said that no conclusion had been drawn on whether to ban conch exports. "We have drown no conclusion on anything. An important aspect of it is going to be a national dialogue. When we met with the Prime Minister and we spoke about conch we assured him that we would take the discussion and conchservation national to make sure that there is broad scale understanding of the issue and any measures we have to suggest to the government will have the support and buy in from fishermen," said Mr Carey.