BY DENISE MAYCOCK
Tribune Freeport Reporter
dmaycock@tribunemedia.net
FREEPORT – Contracts worth a total of $160,000 were signed for renovation work at three clinics in East End, Grand Bahama.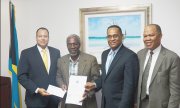 MP Frank Smith, chairman of the Public Hospitals Authority; Herbert Brown, managing director; and Minister for Grand Bahama Dr Michael Darville held the contract signing ceremony at the Ministry for Grand Bahama.
Two local contractors in the East End settlement – Javon Pinder and Lawrence Laing – were awarded the contracts for renovations at the clinics in High Rock, McLean's Town, and Sweeting's Cay.
Mr Smith said that the contracts have a combined value of $160,590.90. He said the government is committed to improving the health care facilities available to residents in the outlying settlements of East End.

"The contracts awarded today by the PHA will lead to much needed remedial construction work to the clinics," he said.
"This project is long overdue and the involvement of the PHA in this regard is both timely and ought to be commended."
"These contracts are simply the latest phase of investments in enhancing and optimising the healthcare services provided by the Grand Bahama Health Services."
Mr Smith said the work is expected to be completed within six weeks.
Herbert Brown said Javon Pinder of J's Construction Company was awarded a $45,000 contract for remedial work at the High Rock Clinic.
He said Lawrence of Laing of L&C Construction & Maintenance was awarded two contracts – one for $77,166.90 for work to McLean's Town Clinic and a second for $38,424 for work at the Sweeting's Cay Clinic.
Mr Brown said the contracts represent a significant investment by the PHA in Grand Bahama's health services.
Minister for Grand Bahama Dr Michael Darville said the contracts will create a number of construction jobs and provide an economic boost in the East End community.
"I am certain that the contractors, who are all from East Grand Bahama, will deliver quality workmanship in the specific time frame of six weeks," he said.
Javon Pinder of Js Construction was grateful to the government and the PHA.
"I think it is a great move for High Rock because it will provide much needed for jobs for residents," said Pinder.
Lawrence Laing said the construction jobs will help many residents in EGB.