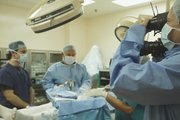 DOCTORS Hospital and the Bahamas will be featured this summer on the documentary series In View, hosted by legendary talk show host Larry King.
The series, which features stories covering topics ranging from education and business to agriculture, technology and medicine, is highlighting High Intensity Focused Ultrasound (HIFU), a minimally invasive treatment option for localised prostate cancer.
HIFU is the focusing of high intensity sound waves to create heat at a focal point and destroy targeted tissue.
Doctors Hospital is one of just a handful of facilities around the world where the relatively new procedure is offered. Because the procedure is still undergoing FDA trials in the United States, hundreds of American men have come to Doctors Hospital to have the potentially life-saving and enhancing treatment.
When the Larry King show decided to feature the procedure in an upcoming episode, the medical team at International HIFU decided to have this particular patient treated at Doctors Hospital where they have been bringing patients and surgeons for HIFU treatment for the past five years.
Since 2008, more than 520 patients have received the HIFU treatment at Doctors Hospital.
Dr Kevin Blumenthal, who is based in Columbia, Maryland, has done four of his five cases at Doctors Hospital. He gave the patient, Robert Kleinberg, the option of coming here or to another HIFU centre and Mr Kleinberg selected to come to the Bahamas because it would be warmer during winter months. Dr Blumenthal says although he had reservations about bringing his patients to the Bahamas initially, once he experienced the level of high quality healthcare provided by the Doctors Hospital team, he has no qualms about recommending his patients to come in the future.
"It can be a hard sell sometimes. Unfortunately, some of our patients feel if it's not done in the US, it's not quality care and they're not comfortable travelling outside of the US. Initially I had some reservations coming down here too, but when you see it in action, it's impressive. It's an impressive team and company and experience and so once I actually saw it with my own eyes, I didn't have any concerns. I wouldn't have any concerns about bringing my own family down here for treatment, and for me, that's sort of my bottom line," he said.
Dr Stephen Scionti has performed hundreds of HIFU cases at Doctors Hospital and echoes the sentiment.
"My experience as a physician is that we have all the resources we would have at home – we have excellent nursing care, the facilities expected in a modern hospital, we have excellent anaesthesia support and a hospital that can support all the medical needs of our patients. So we feel that we can provide the care we have to provide to our patients identically to the care they would receive back in the United States," Dr Scionti said.
The patient who agreed to have his HIFU experience filmed for the Larry King show, Robert Kleinberg, says he reacted with a degree of scepticism when he first learned he would be having the procedure done in the Bahamas, but said Doctors Blumenthal and Scionti put him at ease with their assurance that Doctors Hospital offered the same high quality healthcare he could expect at home.
Speaking from his Maryland home a few days after his HIFU treatment, the computer engineer said the experience was even better than he'd been made to expect.
"I was journalling my experience throughout and exchanging it with friends and what I said about my experience there was 'as opposed to what we are used to here at home, that is flashy and impersonal, it was a small, unpretentious four-story coral coloured building with a friendly yet professional staff'," adding, "I really didn't feel like I was just a number. I got that personal touch feeling from all of the staff. They made me feel like they wanted me to be there as opposed to being just another patient to shuffle through the doors."