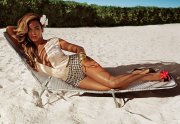 POP superstar Beyoncé Knowles could be getting her own island in the Bahamas.
The 31-year-old singer's husband, rapper Jay-Z, is looking at spending $3 million on his own land in North Abaco so that Beyoncé and their daughter Blue Ivy can enjoy holidays in private, according to The Sun newspaper in Britain.
A source told the paper: "Jay's been looking for a private island for the family. He wants to turn it into his own Necker Island like Richard Branson.
"He's getting it partly to mark their fifth wedding anniversary but also, with Bey back in the spotlight, it's getting impossible for them to do normal things such as go to the beach with Blue."
Sources have told The Tribune that the island in question is Strangers Cay.
The couple are regular visitors to the Bahamas.
Last month Beyoncé was announced as the new face of clothing giant H&M - in a series of adverts filmed in the Bahamas in January.
While she was here she enjoyed a family holiday with her husband and her daughter.