By LAMECH JOHNSON
Tribune Staff Reporter
ljohnson@tribunemedia.net
A MAN who wanted a Crown-appointed attorney to follow his instructions in his trial involving the kidnapping, attempted robbery, and murder of a fast-food restaurant manager is now representing himself.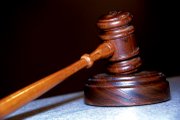 Simeon Dean, 41, of Joe Farrington Road, is no longer represented by lawyer Calvin Seymour after the lawyer asked permission to withdraw as counsel in yesterday's proceedings, which had already started.
Dean was not pleased with Seymour's representation because the lawyer did not follow his instructions and said as much in court.
Mr Seymour's request to withdraw from the case was granted by Justice Indra Charles, the presiding judge in the case.
Seymour faces a charge each of murder, robbery, attempted robbery, housebreaking, and kidnapping in the September 19, 2009 death of 21-year-old Rashad Morris.
Morris, 22, was kidnapped from the Charlotte Street branch of Burger King in the late night hours of September 19 and taken to Burger King on Tonique Williams-Darling Highway where he had been the manager.
He was ordered to open the safe. However, when he was unable to do so, he was beaten, stabbed and left to die in the restaurant's parking lot.
Morris was the sixty-first murder victim for 2009.
Dean denies the charges.
The trial resumes at 11am today.
Darnell Dorsett is prosecuting for the Crown.