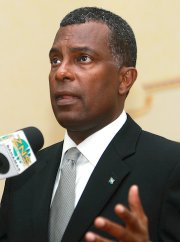 By NEIL HARTNELL
Tribune Business Editor
nhartnell@tribunemedia.net
THE Immigration Minister yesterday accused The Tribune of "hijacking" the debate over the Government's proposed work permit policy, alleging that this newspaper was "protecting its own interests".
Addressing a Bahamas Chamber of Commerce and Employers Confederation (BCCEC) luncheon on the ongoing work permit controversy, Fred Mitchell referred to The Tribune several times, although not always by name.
Indicating that he appears to have this newspaper on his mind, in a clear reference to it, Mr Mitchell said of the original reaction to his House of Assembly statement: "We had a wholly irrational response framed by an organisation that has its own interests to protect. Even that response was irrational."
Arguing that every work permit application to the Department of Immigration would be judged on its own merits, Mr Mitchell added: "There is nothing beyond 
negotiation. Each case turns on its own facts, but to hijack a whole argument......."
He then referred to an old saying, adding: "If you want to hide something, put it in writing."
Earlier in his address, Mr Mitchell had also taken issue with a Tribune editorial, saying it had supported the view that Bahamians "are lazy, they steal and don't want to work".
"These, mind you, are the same Bahamians who buy newspapers every day. But never mind that, maybe they are different Bahamians," he added.
Mr Mitchell went on to describe much of the recent coverage of himself, and the Government's proposed work permit policy as "a load of codswallop. In fact, I have not read so much bull in all my life over the past weeks."
Aside from The Tribune, Mr Mitchell also took aim at Branville McCartney, former minister of state for immigration and now Democratic National Alliance (DNA) leader, over his comments that Bahamians did not want to do domestic work such as housekeepers, maids and domestic helpers.
"What continues to confound me is the former Minister of Immigration, who just yesterday was saying that Bahamians will not work as domestics and we must accept that fact," Mr Mitchell said.

"I would like the former Minister to declare his interest in this matter. He knows as a lawyer that when you speak to an issue which may be self-serving that you should declare your interest."
Mr Mitchell then said it was the wages being offered that meant Bahamians did not want to do these jobs.
"I have already indicated that the Government is not proposing to break off longstanding relationships, or invite people in to your homes who are not in the interest of your security, but Bahamians must work. That is our view, and that is what the policy is seeking to do," the Minister added.