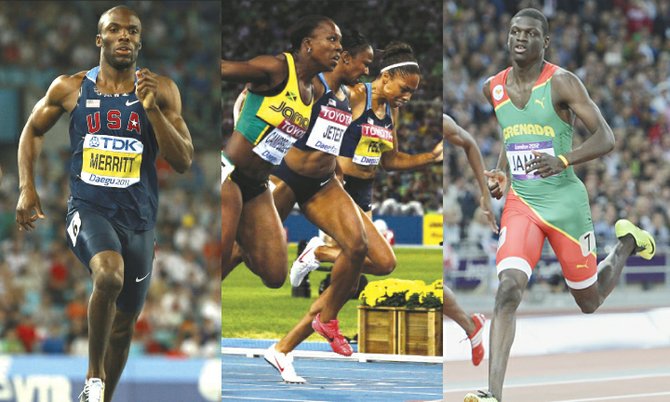 By BRENT STUBBS
Senior Sports Reporter
bstubbs@tribunemedia.net
THE international stars are here for the inaugural Chris Brown Bahamas Invitational. LaShawn Merritt, Veronica Campbell-Brown, Justin Gatlin, Kellie Wells and Candyce McGrone were just a few of the athletes met at the Lynden Pindling International Airport yesterday where they were interviewed in the VIP Lounge before being escorted to the Games Village prior to Saturday's event in the new Thomas A Robinson Track and Field Stadium.
More than 100 athletes, including a host of Bahamian athletes, are in town to compete in the meet that is slated to begin at 6pm April 13. The youth segment of the meet is scheduled to get started at 1pm.
The athletes were all eager to be here, showing their appreciation to Brown as he puts on his first meet in the new stadium.
Veronica Campbell-Brown, the biggest name on the list of stars here, is a two-time Olympic 200m champion (2004 and 2008), two-time Olympic 100 champion (2004 and 2012), two-time Olympic bronze medallist (100 in 2004 and 2011), World Championship double gold medallist in the 100 and 200 (2011) and winner of two World Championship bronze medals in both the 100 (2005 and 2011) and 200 (2007 and 2009).
"First and foremost, I'm delighted to be here in beautiful Bahamas," she said. "I'm excited about competing at the Chris Brown meet," she said. "As always, one can expect for me to do my best and just to make sure that my fans are entertained. That's what I'm going to do. The time is personal. I just have a personal goal that I'm trying to accomplish. I don't like to put times out there. I just like to keep it in the back of my head and work towards it."
On competing in front of the crowd, Campbell-Brown said she gets no better feeling than competing for the Caribbean, especially because of her Jamaican heritage where track and field has always been one of the exciting sports, both locally and internationally. "They are always enthusiastic and excited about the sport, so I'm just happy to be here," she said. "I'm looking forward to it and some great competition because I know it's going to be a great field. so I'm excited to be here. I always go into my competition, not underestimating anyone. So it's going to be a lot of fun."
And her husband, former Jamaican sprinter Omar Brown, is accompanying her. "It's a pleasure to be here. I know Veronica is excited to race, so we're just looking forward to a great performance from her," he said. "Knowing her, she's going to go out there and do her best."
Justin Gatlin, the American Olympic 100m champion (2004) and two-time bronze medallist (100 in 2012 and 200 in 2004) and double World Championship champion (2005 in the 100 and 200), will be one of the headliners for the men's 200m at 7:10pm. "I think we're going to start off our season very well. We're getting into our speed work right now and it's a new stadium, so look for us to put down some good times," Gatlin said. "I'm going to add the 200 as I go for the double (100) this year (at the World Championships in August in Moscow, Russia). "So it's been a while, so I'm going to go out and hopefully give the fans a treat."
When he began competing as a rookie, Gatlin said Chris Brown was one of the athletes that he looked up to and so it's an honour for him to come here and show his appreciation by running in the meet.
LaShawn Merritt, 2008 Olympic and 2009 World Championship champion, will be entered in the men's 200 metres against a field that will include his training partner, Demetrius Pinder from Grand Bahama, and Gatlin. "Me and Demetrius are coming here competing in our first race for the season," Merritt said. "It's going to be a quick 200m to get some speed in, so we can get out in the 400 later and dominate. Time wise, I'm not sure, but I'm pretty sure it's going to be a fast one."
Based on their training sessions, Merritt said they are going to go at each other as they attempt to "break this track in" because it's still a little too early to start running the 400. "I want to run a couple 200s first to get some speed in, so this is the perfect meet."
Demetrius Pinder, the 2012 World Indoor Championship silver medallist who ran the second leg on the men's 4 x 400 relay team that captured the gold at the 2012 Olympic Games in London, is thrilled to have his training partner in town to compete against him.
"It's a blessing to be here in front of the home crowd in one of the first major meets for the year," Pinder said. "We've been having some good training sessions, so it's good that we are here to start it off on the new track. I think it's just tremendous."
On competing against Merritt and the rest of the field in the half-lap race, Pinder said "anything goes. Once me and him are up there, anything could happen. It should be a good race. In order for us to se a fast time, we both have to push each other. That's what we're here for."
Pinder, the two-time national champion, said it's good to be able to come home to support Brown. "It's good because we show that we can compete in meets like this not just around the world, but right here at home," he said.
Candyce McGrone, a sprinter from Florida State University, will be competing in the women's 200m at 7pm. Coming off an injury-filled season last year, McGrone said her aim is to "come out and run a good time because this is my first 200m for the year. I'm looking to run under 22.8 hopefully. I'm in very good condition."
This is McGrone's first trip to the Bahamas and she's looking forward to performing her best.
Kellie Wells, the American 100m hurdler, said she too wants to impress the fans.
"If anybody knows me, they know that I like to put on a show," Wells said. "So hopefully I can run really well and do my victory dance after the race as I smile and wave at the fans. I only came here to win. I never shoot for the time. I shoot to win. So the sky is the limit."
Wells said she has known Chris Brown ever since she attended Hampton University and he has helped to mentor her and grow her up in the sport.
"So to come here and to compete for him and to put on a great meet is very good," she said. "He's been very dear and close to my heart. Everybody likes Chris. He's so real. If you ask him a question, he will tell you very honestly."
Lavonne Idlette
of the Dominican Republic will be one of Wells' rivals in the 100m hurdles. "I'm trying to run the standard for the World Championships and run a clean race," said Idlette, who participated in the 2012 Olympics.
"This is my second race for the season, but I'm really excited to be here in the Bahamas. It's a nice warm place and it has a new track. So far so good. It's really organised and I'm excited to be here."
Churandy Martina of the Netherlands will be one of the top contenders in the men's 100m. He won the gold medal in the century at the 2007 Pan American Games in Rio de Janeiro and was a double Central American and Caribbean Games 100m champion in 2010 and 2006 as well as the 200m in 2010.
"This is my first opener, so it will be a little different. We've been working on speed and everything, so I just hope to execute out of the blocks and have a good time," Martina said. "I'm going for a 10.0."
As a room-mate of Chris Brown whenever they travel together because of their close connection with the same agent, Martina said he's pleased to be here to participate in the meet in his honour and the people of the Bahamas.