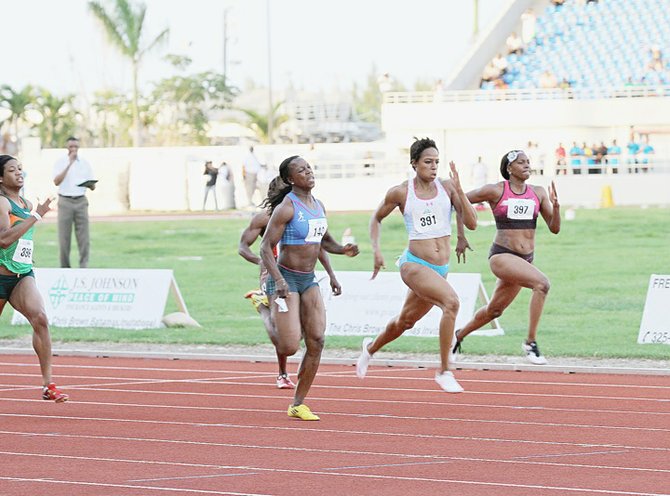 By BRENT STUBBS
Senior Sports Reporter
bstubbs@tribunemedia.net
AMERICAN quarter-miler Natasha Hastings produced one of the most exciting performances in the first global international meet for elite athletes at the inaugural Chris Brown Bahamas Invitational at the new Thomas A Robinson Track and Field Stadium on Saturday.
Hastings, a member of the USA 4 x 400 relay team at the 2008 Olympics and a three-time gold medallist on their World Championship teams, came down to the 200m and stunned Jamaican sprinting legend Veronica Campbell-Brown as she took the tape in 23.13.
Campbell-Brown, a dominant figure in every major international meet in both the 100 and 200m, was a few strides behind in 23.18, while American Porsha Lucas got third in 23.39. "I was pleased with my time. I was hoping to run a little faster, but my high school coach always told me that you have to win before you can worry about times," Hastings said.
"I think everybody in the race was hoping to run a little faster, but I'm not too overly excited, but seeing the comeback talks about my 400 strength, so a win is a win."
Campbell-Brown, affectionately known as VCB, said she's not going to let the defeat get to her. "Every time I finish a race, I give God thanks," Campbell-Brown said. "To be honest, I was expecting a better time, but I have to go back to the video and see what I might have done with the race.
"I'm pleased with the race. I didn't see Natasha until the last two metres, but she ran well. It was a good race. I just have to go back and work a little harder."
The women's one-lap race saw a 1-2 sweep by Americans Moushaumi Robinson in 51.89 and Keshia Baker in 52.00, while Puerto Rican Carol Rodriquez settled for third (52.75).
Robinson was celebrating her 32nd birthday and she indicated that there was no better place to do it than competing in the meet in front of the Bahamian crowd.
Bahamian Christine Amertil continues to make her comeback after taking a year off to have a baby. She ran 53.77 for fourth place.
"First one out here in three years, so I'm really happy with the time because last year June this was where I was, so this is a vast improvement," she said. I would have liked to have done better before the Bahamian crowd, but I'm pleased."
Cache Armbrister, making her adjustment to life after college at Auburn University, captured the B 400m in 54.11, holding off Ashley Kelly, who did 54.61.
"I'm just glad to be competing at home. This is the first time that I competed on this track and I'm still on that Carifta high, so its fun," Armbrister. "I haven't done any speed work yet. I'm just running on my endurance."
In the women's 100m, Alexandria Anderson (11.26) and Chauntae Bayne (11.36) got a 1-2 finish over the Jamaican duo of veteran Aleen Bailey (11.37) and Trisha-Ann Hawthorne (11.40).
Bahamian Sheniqua 'Q' Ferguson, now running on the pro circuit after graduating as well from Auburn University, was fifth in 11.40.
"It was a good race. I thought I got out, but I don't know what happened," she said. "I guess I have to go back and work on some things. But it was good to come back home and compete in this meet. First time on this track."
Winning the men's century was American Darvis Patton in 10.09 with Netherlands' Churandy Martina second in 10.34 and Jamaican Dexter Lee third in 10.35 over his compatriot Sheldon Mitchell in 10.39.
"As long as I can come away being healthy and get a win, it's always a good sign," Patton said. "My start has always been my weak point, so I've been working on that. It felt good in my drive phrase. Just have to go back and continue to improve on what I did."
The men's B race was won by Cayman Islands' Kemar Hyman (10.30) over a host of local athletes, led by Shane Jones in 10.42 and Antillio Bastian in 10.48.
In the men's B 400m, Jamaica took the sweep with Javere Bell (46.17), Oral Thompson (46.25) and Allodin Fothergill (46.40). Bahamian Wesley Neymour got fourth in 46.78.
American Kellie Wells, a bronze medallist in the 2012 London Olympics, easily clinched the 100m hurdles in 12.88, while Jamaican Andrew Riley won the men's 110m hurdles in 13.31 with American sensation David Oliver getting second in 13.37.
"Chris was my friend and he asked me to come here and run and you know you can't tell a friend no. The Bahamas - good people, good food and good track. It was an easy guess," she said.
"The race was good. I just wanted to stay relaxed and work on the things we've been working on in practice and not put too much pressure on myself."
On the field, American Chelsea Haynes soared 6.72m or 22-feet, 0 3/4-inches to win the women's long jump. British Virgin Island's Chantal Malone got second with 6.65m (21-10), while American Chelsea Carrier was third with 6.28m (20-3 1/2).