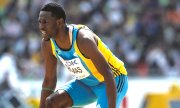 By BRENT STUBBS
Senior Sports Reporter
bstubbs@tribunemedia.net
DONALD Thomas and Trevor Barry, the 1991 and 2011 IAAF World Championship men's high jump gold and bronze medallists respectively, had to bow out to two young stallions in Ryan Ingraham and Jamal Wilson as they competed in the inaugural Chris Brown Bahamas Invitational.
The quartet, the strongest field to compete on home soil in about a decade, was faced with the challenge from American Keith Moffatt. On the count back, Moffatt took the victory with a leap of 2.28 metres or 7-feet, 5 ?-inches.
Both locally based Ingraham and Wilson cleared the same height for second and third, while Thomas and Barry were tied for fourth with 2.20m or 7-2 ?.
Moffatt, who has competed against both Thomas and Barry, said he was thrilled to have pulled off the victory over such a Bahamian laden field of top notch competitors.
"This was a great meet," he said. "I came here knowing that the guys were ready to jump. I just had to keep my composure and everything worked out in my favour.
"But the guys here performed very well. I was really impressed."
For Ingraham, who is trained by another outstanding high jumper James Rolle, it was good to produce the performance as he continues his preparation for a possible appearance in his first IAAF World Championship in Moscow, Russia, in August.
"Right now, I'm right where I want to be," said Ingraham, the 2011 World Junior champion. "Right now, I'm comfortable. This is my first year being injury free, so I'm looking forward to putting on a great performance this year."
On the competition, Ingraham said he knew he was going to be good, but he was a little surprised both Thomas and Barry made their exit so early.
"If I can keep my head focused and continue to listen to my coach, anything is possible," Ingraham said. "I'm looking forward to competing this season."
Wilson, back home after graduating from college, said it was a lot of fun for him.
"I came here to do what I was expected to do, so I'm very proud of myself," said Wilson, who is being coached by Ronald Cartwright. "This was what I dreamed for. I was preparing for this all week. I knew it was going to be a lot of good guys jumping, so I just went out and did what I had to do."
Wilson, who attempted 2.30m, said he's now looking forward to returning to the United States to compete in his next meet at Auburn in a couple of weeks.
Not taking anything away from his competitors, Barry said he wasn't as prepared as he should have been. "I was a little fatigued. Anyone out there who knows me knows that wasn't me," he said. "Congratulations to the youths. They showed a lot of progress. But we will see them in June."
Having suffered the loss, Barry said it was just a tune up and it won't have any effect on him as he presses forward towards the trek for the Worlds where he intends to go for another medal.
"I still have a lot of heavy training, so as I go into my next cycle, I know I'm only going to get better," Barry said. "I know there's still a lot of jumping left in me, so I'm not worried."
Thomas isn't worried either. "I made some minor mistakes. I made the adjustments with my mark, but I came too close to the bar," Thomas said. "This is my first one out of the gate, but I have to keep on going. Every time the young guys jump they have a championship mentality because they are jumping against us. But it's still early. I know they jumped well against us and I want to congratulate them. I just have to keep moving forward, but we will meet again."
Thomas said he only wanted to fill a commitment to his grandfather, who wanted him to jump at the meet. But he vowed to be back bigger and better when he competes again at the Drake Relays.