By DENISE MAYCOCK
Tribune Freeport Reporter
dmaycock@tribunemedia.net
FREEPORT – Immigration Minister Fred Mitchell said the government will no longer allow industrial companies to apply for work permits without labour certificates showing that there are no Bahamians available to fill the jobs.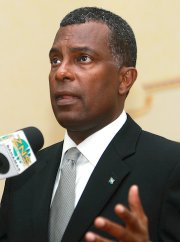 "We are routinely requiring companies to have those labour certificates. And they ought to do so routinely, and not seek to get that requirement waived because we are under severe constraints not to waive that requirement," he said.
Mr Mitchell said the Immigration Board held discussions in Freeport on Friday.
In the past, he said, many companies – particularly in the industrial sector – have been able to get work permits on what they regard as an emergency basis and not meet the requirement for a labour certificate, which is the only way the department will know whether or not there are Bahamians available for the jobs.
He said work permits are only to be issued in circumstances where there are no Bahamians available.
"One of the ways we find that out is when the Department of Labour issues a certificate which says there are no Bahamians available for those jobs,"Mr Mitchell said.
He said the Minister for Grand Bahama has met and spoken with the industrial companies.
"And we thought it was necessary to make a public statement to the community to sensitise persons to that issue," he said.
"We are trying to make sure that… no one gets around the system. We are trying to change the culture of this.
"Some people will plan Bahamians out of the economy in their own country. We don't intend to preside over that.
"We welcome investment and we want to make sure things are processed in a timely fashion, but we like people to obey the rules and stick by those rules so that Bahamians can have a first call on the resources of the country," he said.
He said Minister Darville has been working very closely with the industrial sector on getting training for Bahamians.
"We understand that there are deficiencies in training and skills, and that is something that is being addressed," Minister Mitchell added.