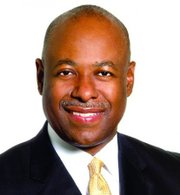 By KHRISNA VIRGIL
Tribune Staff Reporter
kvirgil@tribunemedia.net
ALTHOUGH pleased that Copa Airlines has led to increased visitor arrivals, Minister of Tourism Obie Wilchcombe said the government is watching the Panamanian airline closely.
Drug Enforcement Unit (DEU) officials last month said they were very concerned about the frequent use of the airline by narcotics traffickers to bring illegal drugs into the country directly from South and Central America.
Mr Wilchcombe believes that in order to curb the problem, visitors from this area should be properly informed beforehand of the severe punishment they face if caught bringing drugs or weapons into the Bahamas.
He said the government intends to post various advisories and warnings in Panama and other cities to discourage illegal activity.
"What we are trying to do is put in place, there the originating country, posters and billboards advising that it is a crime to smuggle drugs or guns or anything. We will be putting notices up to make sure that they know. It's about education.
"But obviously you have people who are going to try to break the law, so it is for us to ensure that we let them know before they even come here that if you do it you pay the price."
A few weeks ago, nine Colombians were arrested in two separate drug seizures in just four days. Two of the men were found by police with five pounds of liquid cocaine, the street value of which was around $32,000.
Before that, four men and three women were taken into custody when they too were found with liquid cocaine, some of which was swallowed.
The DEU collected rubber packets containing drugs.
At the time, Samuel Butler, DEU chief, said he was concerned because South America has for a long time been considered one of the main "countries" that contributes to the trafficking of drugs.
He said officials expected the Bahamas to be impacted due to the direct flights from Panama.
Mr Butler added that their intelligence had shown liquefying cocaine is the new method of choice for mules, as it makes the drug easy to carry and hide.