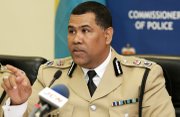 By SANCHESKA BROWN
Tribune Staff Reporter
sbrown@tribunemedia.net
AS he announced a drop in major crimes in the Bahamas of 13 per cent from January 1 to April 15 yesterday, Commissioner of Police Ellison Greenslade denied rumours that the police force was doctoring the statistics.
Mr Greenslade said that crimes against persons are down by one per cent and crimes against property have decreased by 19 per cent overall.
According to the latest statistics released by the Royal Bahamas Police Force murder has decreased by 26 per cent, from 38 to 28, attempted murder decreased by 60 per cent, rape by 7 per cent, unlawful sexual intercourse by 14 per cent and robbery by three per cent.
However, armed robbery has increased by 3 per cent and attempted robbery by 38 per cent.
As it relates to crimes against property, burglary has decreased by 28 per cent, housebreaking by 26 per cent, stealing by 4 per cent, stealing from a vehicle by 21 per cent, and stolen vehicles by 13 per cent.
However, there was a 10 per cent increase in shopbreaking.
Commissioner Greenslade said the downward trend in crime is a result of the hard work of officers of the Royal Bahamas Police Force, Urban Renewal, Community Policing and saturation patrols.
He rejected rumours that the police force was doctoring the statistics to make it appear as though crime has decreased when it is really on the rise.
"It is not good for people to second guess the commissioner. I have the facts. I do not lie and I am not prepared to challenge anyone in authority over me and I am not going to start now being disrespectful to anyone in authority over me. But i will tell you this, there are days when I am very, very disappointed in some comments that I hear from various sectors of the community, which does no good to this country, does nothing to advance the positive cause of the Law enforcement or the people of this country and I am really, really sometimes very, very disappointed," he said.
"I speak for me and this executive team, all of us have come to the table with clean hands, those hands are clean today and will remain clean and I speak with one voice, the facts are the facts that we give to you. I am never going to enter into another arena and offer an opinion on something I know nothing about. I am not an accountant, I am not a medical doctor, I am a police officer, that is what I do, it is all that I have always done and thankfully the government and the people of the Bahamas have confidence in me and when I am satisfied that I no longer have that respect and that confidence of you and the public, you won't have to tell me what to do.
The Commissioner also said he does not like the disrespect that the police force has been getting lately.
"We do not like the disrespect that we get," he said. "I do not like the disrespect that we get and the disrespect that the wider force gets. We do not deserve it from whomever gives it to us. We do not deserve it because we are on the front lines every day, our families hardly see us, we sacrifice to our detriment because we are madly in love with the Bahamas and madly in love with the work we do and anyone that has had any interaction with me or any other member of this team must be able to see, these people do the best by us, are we perfect, absolutely not. Do we make mistakes, yes. But you know what's most important when we note that we have misstepped and we correct it. "