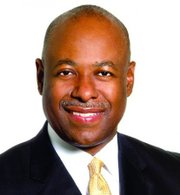 By KHRISNA VIRGIL
Tribune Staff Reporter
kvirgil@tribunemedia.net
CRUISE ship officials are concerned that crime levels in New Providence – in particular downtown Nassau – are escalating at a pace no longer safe for passengers, Tourism Minister Obie Wilchcombe said yesterday.
While visitors have not yet been advised to remain on board ship, the Minister said they have been cautioned to take proper safety measures and be informed of previous instances of crimes against tourists.
The concerns, he said, were raised last week in a meeting by several executives. His announcement also came just moments after Police Commissioner Ellison Greenslade reported that the latest overall crime numbers were down.
Speaking with The Tribune outside the Cabinet office, Mr Wilchcombe said the Ministry of Tourism has to now take a serious approach at ensuring that visitors are safe in the Bahamas.
"They are concerned about (crime)," he said , "and they are very reluctant to advise in some instances because of what has happened in the past, particularly to the crew members.
"They are telling them not to go out or only attend Senior Frogs. A lot of the young folks go there. At all times I think it is imperative for us as the host country to make sure that we have necessary security in place to protect the guests.
"So we have to be even more vigilant in the Ministry of Tourism. Together with the police we have to make sure that we have the security required for the protection of our guests."
As a much sought after destination, Mr Wilchcombe also stressed the need for authorities to get a handle on crime in the country.
"We just need to be on top of things and the situation because we are a high-end destination. Because we are, what differentiates us from the rest of the world is our quality. So our product has to be the best and that includes people feeling safe when they are in this country."
He said local authorities have already agreed to work with Tourism officials in that regard.
"The police have no difficulty. They understand that things have changed in the world and crime has just expanded all over the world with the types of crime. So the police work with us to ensure that we can deliver the service that we must," the Minister said.