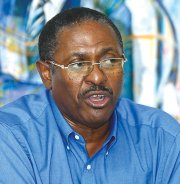 PLP chairman Bradley Roberts called on commercial banks to do more to assist their distressed customers in the wake of criticism that the government has failed to assist homeowners with its stuttering Mortgage Relief Plan.
In a statement issued to the press yesterday, Mr Roberts said that regardless of the "political posturing" of Dr Duane Sands, the former Bahamas Mortgage Corporation chairman who suggested Bahamians should be dismissive of the Progressive Liberal Party, Mr Roberts said the PLP is the only government that proposed a tangible plan to assist struggling home owners.
"We have said this before and we say it again – Duane Sands and the FNM are out of government, have no responsibility for governance and are at liberty to engage in idle political drivel with no accountability. This Mortgage Relief Plan was no election gimmick as critics have suggested, but a plan designed in consultation with and endorsed by the stakeholders, commercial banks, to offer relief to distressed mortgagees," Mr Roberts said.
"Participating banks had intimate knowledge of the financial circumstances of their customers and agreed to the terms of the MRP based on their knowledge and workability of the proposed plan. The PLP government clearly relied on the market intelligence of the commercial banks in crafting this plan."
Citing an article from this daily in September of 2012 in which Nathaniel Beneby, chairman of the Clearing Banks Association (CBA) is quoted as saying that "all member banks are pleased to provide support and are fully participating in partnering with the government in the MRP (Mortgage Relief Plan)," Mr Roberts said Mr Beneby further assured both the government and the public that the CBA was also committed to giving the implementation and execution of the plan "top priority".
"If the leaders in the banking industry knew at the time that homeowners would not or could not qualify for relief under the proposed plan, that sentiment was not expressed during the negotiation and launch phases of the plan. Further, and because these are private mortgage contracts between private entities, the government must be applauded for making $10 million in public funds available to assist ordinary working Bahamian families in keeping their single largest investment – their home.
"Surely with this olive branch extended by the government in good faith, there has to be more the commercial banks can do to assist their distressed customers," he said.