By JEFFARAH GIBSON
Tribune Features Writer
jgibson@tribunemedia.net
MANY Bahamians have testimonies of a time when they beat the odds or overcame an obstacle in their life. Reggae gospel artist Ricardo Clarke has had similar experiences and after overcoming many obstacles he has learned to never count himself out.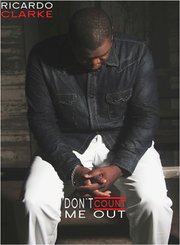 All of his past experiences have inspired Clarke's newest album "The Uprising Vol. 3: Don't Count Me Out." To celebrate, the artist is hosting a free "Don't Count Me Out" release concert tomorrow night at Calvary Deliverance Church beginning 7.30pm.
The event is expected to be inspirational and will feature other Bahamian musicians such as Christian Massive, DJ Counsellor, Reuben Heights, Najee Dunn and DJ Godson amongst others.
"We have come through the most difficult period in recent history. I have seen so many survive shortfall, setbacks and disappointment. I have witnessed persons will themselves to win in spite of being in a losing circumstance. They have beaten the odds and that inspired me.
"The intention of the concert is to create an atmosphere where we celebrate those who have beaten the odds, encourage those who the odds are against and remind all never to count themselves out," he told Tribune Religion.
The first single off the new album, "Don't Count Me Out" has received positive feedback from not only the local audiences but those around the world.
It is important for Clarke to give back which is the reason why the concert is free. Since the start of the year he also hosted school tours, sharing his music and his story with students. The tours started in Nassau and moved to other islands in the Bahamas to various primary, junior and senior high schools.
"In my view it is always important to give back while you have the influence and the relevance to do so. It is always my desire to reinforce what our children are learning and support what the educational system is trying to do. We always want to encourage our students to live a productive life and encourage them that even if they have a setback and even if they are down and out, don't count yourself out."
Don't count yourself out is also the main message he hopes people who attend the concert receives. He said when God is apart of someone's the can rest assured that their deliverance will come.
"The overall message behind this project is that you can make a comeback. The struggle should never be your signature. Failure is not final. I hope the music encourages them through their tests and inspires them to soar into their greatness in spite of the challenges. In the words of Henry Ford 'When everything seems to be going against you, remember that the airplane takes off against the wind, not with it'," he said.
Ever since he was a child, Clarke was passionate about music. He attended church regularly and participated in the choir where he got his start in musical arts.
In the past he has shared the stage with major acts such as Beres Hammond, Papa San, Tarrus Riley, Marvin Winans, Canton Jones, Grammy nominated gospel artist Vashawn Mitchell and Grammy award winner Kierra "KiKi" Sheard.
Clarke has also worked with top producers and bands such as The Far East Band and House of Riddim, who have produced for the likes of Gentleman, Sizzla, Tanya Stephens and other top reggae acts.
He has also been featured in international websites and magazines namely Ragga Magazine and She Caribbean which is circulated in 30 countries including the USA,UK and the Caribbean.
Additionally, he also supports efforts to fight against breast cancer.