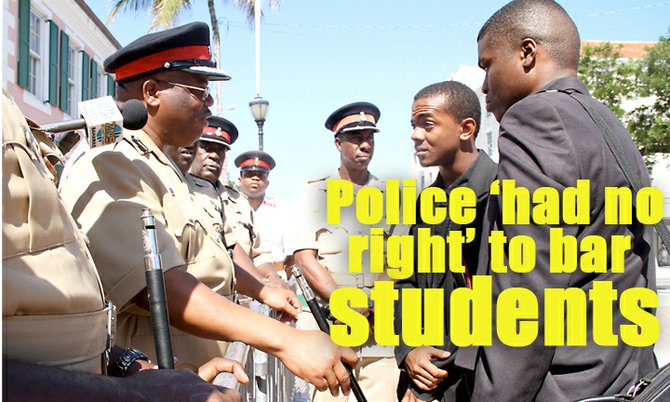 By DANA SMITH
Tribune Staff Reporter
dsmith@tribunemedia.net
POLICE did not have the power to bar a group of students from entering the House of Assembly yesterday, according to former House Speaker Alvin Smith.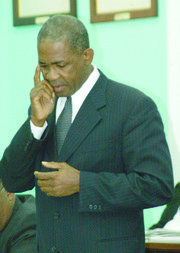 He said police did not have the authority to deny the students entrance to the House unless directed to do so by the Speaker.
Members of the Royal Bahamas Police Force gathered on Rawson Square yesterday morning to deny some 14 College of the Bahamas students entrance into the House saying "certain intelligence" led them to believe the students may have presented a "security concern."
The group of students – also barricaded from gaining entrance to Rawson Square – were angry about recommended fee increases at COB, but told The Tribune they had not come to protest.
They said they wanted to sit in the House and watch the proceedings and claimed their rights had been "infringed upon" in not being allowed to do so.
"The House is in session today, so as citizens of this country and students of COB, we thought it would be an information session that we can sit in on as it is our right to do so," said Deandra Cartwright , Presidential Advisor in the College of the Bahamas Union of Students (COBUS).
"But we were met with about 25 cocky, suited policemen and told that we were not allowed to do so. They claim that we want to protest, we merely want to sit in to hear what our Members of Parliament have to say about the issues."
Another student, Ashley Knowles, said the conversation with police "wasn't necessarily a confrontation" and they were reportedly told, at first, that space would be made available to them, by Assistant Commissioner Leon Bethel.
"Then I noticed he got a phone call which told him that he must not let us in because we are going to disturb the House," Mr Knowles continued. "So he said he's not letting us in."
Mr Bethel said the reason the students were "asked" not to attempt entry into the House was because of "security concerns" and maintained police could not "allow anyone to disrupt."
"This morning we received some information and hence, security concerns," Mr Bethel said. "And as a result of the concerns that we have – with respect to the security of Parliament and in terms of the unfettered proceedings of Parliament – we decided to ask the persons assembled, some students from COB, not to attempt to gain access to Parliament.
"This was communicated to them; we explained the reason why; and of course, Parliament is now in session, is going on smoothly and we intend to remain here to make sure law and order is maintained here at Parliament, in the down-town area, and in all areas of New Providence."
He added: "We cannot allow anyone to disrupt what is going on."
When asked if police suspected the group of students would cause a disruption, Mr Bethel said: "We received certain information and we took the information that we received, seriously - as we do with all intelligence that we process."
Ms Cartwright told the press, however, the students came with "no intent to protest."
"We've been here before; this is not our first time begin here in the House, so I'm trying to figure out why is it now of all days, we can't sit in on a session of the House," she said.
"Is it that the Members of Parliament, those who we elected to power, do not want to hear what the young people are saying about our future in tertiary education?"
But again persisting they did not come to protests over the reported fee increases, she asked: "Do you see any placards? We have no placards of any kind. We are dressed in suits, in the hot sun. We intended to be in the House, sitting in the gallery, merely listening-in to what they have to say."
COBUS president Ernesto Williams added: "The last time we checked this was a public opening and there is nothing - particularly a law or such - to say that we cannot enter. So to say there are security measures that they have to investigate, that they're not telling us, definitely sounds shady... It comes off as something that's infringing upon your every right."
When asked to comment Former Speaker, Mr Smith said the only way police could have denied the students entrance was if they were directed to do so, by the speaker.
"It's called the stranger's gallery and you are there on the invitation of the speaker. The speaker can disallow you for many reasons," Mr Smith said. "The speaker controls the entire precinct of the House of Assembly."
He added: "Now if the police suspect something criminal or something disruptive may happen, the police have to bring that to the Speaker's attention. Share it with the Speaker and the Speaker must concur it is absolutely necessary that these individuals are not allowed. But it must go to the speaker."
While the students gathered outside, Prime Minister Perry Christie did speak on the reports of fee increases, inside the House of Assembly.
"I don't know of any increase in fees," he said. "Just recommendations to the College Council."
He said those recommendations have not reached Education Minister Jerome Fitzgerald or the Office of the Prime Minister.
"They've come out here to demonstrate, we in the government have no idea what they are talking about because nothing has come to us of that order," the prime minister added, speaking during a break in the House proceedings.
"The Minister of Education is off the island and the first time I heard was when I saw in the newspaper that charges or fees would be increased and I have no idea what they were talking about," Mr Christie said.
"I called the Minister of Education and he indicated to me that he ha no idea what was begin spoken of and he had recently had meetings with the Chairman of the college, Mr Alfred Sears, and it was not brought to his attention."
However the prime minister did note his awareness of the recommendations but stressed those recommendations are before the College Council and not the government.
Last night House Speaker Dr Kendal Major was not available for comment.