By CHESTER ROBARDS
Tribune Senior Reporter
crobards@tribunemedia.net
THE Public Hospitals Authority released a statement yesterday ensuring the public that it treats all of its patients with "compassion" and "respect" – including the ones in the morgue – following claims of decomposing bodies in the morgue.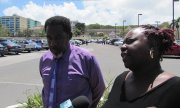 On Wednesday an undertaker claimed that bodies are decomposing in the Princess Margaret Hospital's morgue.
The PHA then released a statement stating that the morgue's freezers and "additional storage facilities are functioning at a level that preserves the bodies."
And the statement ensured the public that those bodies are being treated with due care. The statement never specifically refuted the claims that decomposing bodies are being held in the morgue.
"The Princess Margaret Hospital and the Public Hospitals Authority takes our charge to care for the patients in our institutions very seriously," the PHA said.
"We treat every patient with professionalism, compassion and respect; this includes the patients in our morgue."
Wednesday, funeral home owner Kemuel Cox said he refused to pick up a body until it could be positively identified, claiming the body he saw was in an advanced state of decomposition.
Mr. Cox claimed the body had been kept outside in a refrigerated container behind the morgue and not in the morgue's freezer.
He said he would refuse to remove the body for burial until the hospital administration could convince the dead man's family that his decomposing body was in fact their relative.
"I cannot just sign my name on something and say that I picked up the body and assume that it is that person and bury the person," said Mr. Cox.
PHA said the refrigerated container – "additional storage facilities" – and morgue freezers are "functioning normally."
"…officials at the Hospital have investigated the incident and confirm that the refrigeration systems in both the morgue and the additional storage facilities are functioning at a level that preserves the bodies of those who have passed away until they can be collected for burial," the PHA statement said.
Mr. Cox said the dead man's funeral would have to be a closed casket one.